Press enter after choosing selection
Ruby Redfort Look Into my Eyes
Child, Lauren. Book - 2012 None on shelf No requests on this item Community Rating: 5 out of 5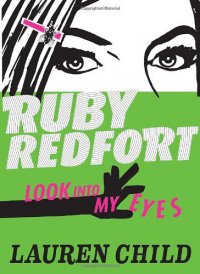 AADL has no copies of this item

Originally published: London : HarperCollins Children's Books, 2011.
Thirteen-year-old Ruby, a genius code-cracker and daring detective, gets an anonymous call setting a challenge that leads her to the headquarters of Spectrum, a highly secret anti-crime agency that needs her help to crack a code, but soon Ruby uncovers dastardly plans of the Fool's Gold Gang.

REVIEWS & SUMMARIES
School Library Journal Review
Booklist Review
Publishers Weekly Review
Summary / Annotation
Fiction Profile
Author Notes
COMMUNITY REVIEWS
!!!!!!!!!!!!! submitted by Lizzy on September 25, 2013, 4:30pm This book is the most incredible book i have ever read. i read it THREE times before moving on to my other library books. It doesn't make the mistakes other books make. i hate it when books go wishy-washy, and i also hate it when books become super unrealistic. This book does not do that! IF YOU HAVEN'T READ THIS BOOK, YOUR REALLY MISSING OUT!
The summary really did a good job of...well...summarizing the book
a bozo says what
FANTASTIC! submitted by purplekitty on August 4, 2014, 12:04pm This book is GREAT! It's jam-packed with action, and is a great read! If you love mysteries, then this book is most definitely for you!
Really, Really Good!!! submitted by our family books on July 1, 2016, 12:49pm This book is a book you will never be able to put down! It's filled with lots of suspense and action on every page!

One of the best books I have ever read! If you love mysteries, you will think so too!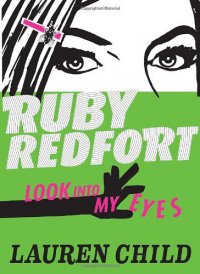 SERIES
Ruby Redfort.

PUBLISHED
Somerville, Mass. : Candlewick Press, 2012.
Year Published: 2012
Description: 383 p. : ill. ; 20 cm.
Language: English
Format: Book

READING LEVEL
Lexile: 800

ISBN/STANDARD NUMBER
9780763651206
0763651206

SUBJECTS
Detectives -- Fiction.
Ciphers -- Fiction.
Undercover operations -- Fiction.
Adventure and adventurers -- Fiction.
Mystery and detective stories.
Spy stories.
Adventure stories.