Press enter after choosing selection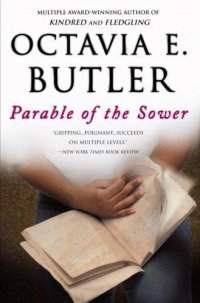 Locations
Call Number: Science Fiction / Butler, Octavia, Adult Book / Fiction / Science Fiction / Classic / Butler, Octavia E., Adult Book / Fiction / Science Fiction / Classic / Butler, Octavia E
On Shelf At: Malletts Creek Branch, Pittsfield Branch

Location

& Checkout Length

Call Number
Checkout Length
Item Status
Downtown 2nd Floor
4-week checkout
Science Fiction / Butler, Octavia
4-week checkout
On Hold Shelf
Downtown 2nd Floor
4-week checkout
Science Fiction / Butler, Octavia
4-week checkout
Due 06-27-2023
Malletts Adult Books
2-week checkout
Express Shelf Adult Book / Fiction / Science Fiction / Classic / Butler, Octavia E.
2-week checkout
On Shelf
Pittsfield Adult Books
2-week checkout
Express Shelf Adult Book / Fiction / Science Fiction / Classic / Butler, Octavia E.
2-week checkout
On Shelf
Westgate Adult Books
4-week checkout
Adult Book / Fiction / Science Fiction / Classic / Butler, Octavia E
4-week checkout
On Hold Shelf
Westgate Adult Books
4-week checkout
Adult Book / Fiction / Science Fiction / Classic / Butler, Octavia E
4-week checkout
Due 06-30-2023
Downtown 1st Floor
2-week checkout
Express Shelf Science Fiction / Butler, Octavia
2-week checkout
Due 06-04-2023
Malletts Adult Books
4-week checkout
Adult Book / Fiction / Science Fiction / Classic / Butler, Octavia E.
4-week checkout
Due 06-27-2023
Traverwood Adult Books
2-week checkout
Express Shelf Adult Book / Fiction / Science Fiction / Classic / Butler, Octavia E.
2-week checkout
Due 06-16-2023
Traverwood Adult Books
4-week checkout
Adult Book / Fiction / Science Fiction / Classic / Butler, Octavia E.
4-week checkout
Due 06-28-2023
Westgate Adult Books
2-week checkout
Express Shelf Adult Book / Fiction / Science Fiction / Classic / Butler, Octavia E.
2-week checkout
Due 06-06-2023
Westgate Adult Books
4-week checkout
Adult Book / Fiction / Science Fiction / Classic / Butler, Octavia E.
4-week checkout
Due 05-30-2023
REVIEWS & SUMMARIES
Library Journal Review
School Library Journal Review
Booklist Review
Publishers Weekly Review
Summary / Annotation
Fiction Profile
Author Notes
COMMUNITY REVIEWS
Frighteningly plausible submitted by crwilley on June 23, 2013, 10:29am "plausible" is not a word you like to use in conjunction with dystopian SF, but there it is - this is, in a nutshell, the tale of a girl who finds herself founding a new religion as she struggles to survive the kind of slow-motion economic collapse that leaves the have-nothings eyeing the have-a-littles as easy targets, slowly assembling a pack of disciples as she walks north along the road towards some hope of safety. Not a fun read, but a worthwhile one.
Read it! submitted by ashflowtuff on August 25, 2016, 10:03am This is one of my favorite books. So powerful and interesting. And so realistic given the path our country seems to be moving in right now.
Life-changing book submitted by jmailing on July 3, 2019, 9:33am Octavia Butler is amazing. I could barely put this down and finished it in a weekend. Her predictions of how our world would (and will) change are scary accurate, and are a gripping wake-up call for us today. Highly recommended read!
so prescient. submitted by AGAPHD on June 15, 2020, 9:15pm There are moments in this novel that are shockingly prescient! It's also a great read. Definitely recommended!
This could happen tomorrow submitted by kath on July 20, 2021, 9:26pm This book is scary - especially since it was written in the early 1990s. Most relevant today. Loved the plot and characters. Read it.
Feels Modern, but isn't submitted by lballard on June 10, 2022, 3:29pm I can't believe how long ago she predicted the problems of our present. Although we have not yet fallen into the predicted dystopia, it feels like it is not that far from where we are. Interesting.
Depressing but interesting submitted by Gladman on June 11, 2022, 8:03am This was certainly an interesting and concerningly real-seeming book. It was a bit depressing, especially at first, but it had some interesting lessons to think about.
21st Century Must Read submitted by mgnlws on June 15, 2022, 4:21pm Despite the incredible loss and horrors visited upon the protagonist and other characters in the book, Parable of the Sower tells a story of the perseverance to survive and resilience of finding community, even in the face of despair. An exceptionally timely and relevant read within our current global and national climate.
Highly recommend submitted by lizzjoy on August 2, 2022, 10:04am I found myself pausing the audiobook to write down passages that I wanted to stay with me. Earthseed as a religion put ideas about accepting change into words that I hadn't been able to form myself. I found the entire novel deeply moving.
Highly recommend submitted by clk.9123 on August 21, 2022, 3:10pm This book was truly a wild ride, however I expected nothing less, after reading Kindred a couple of years ago. For fans of Station Eleven and The Road, I think this should be an obvious choice if you haven't already picked it up, though I recognize that Parable of the Sower was a pioneer of this type of grim dystopia before those two were even thought of!! (Also, why are people saying this book is Young Adult??? It is for sure not, but older teens could handle it I think).

I think I still need to sit with this book for awhile, there is a lot to unpack. I'm happy that my monthly book club chose this for August, because it's been on my TBR for awhile but this seems like a good time to get into this story which deals with climate change, economics, race, poverty... really just so much. I still need to think more about this story, what Butler's intentions were, have my conversations with book club people, and dive into book #2!!

This book can be difficult, it is violent and graphic and gross sometimes, but I think it's important and Butler, like Margaret Atwood and George Orwell, seemingly had insights in the past about the future that we can definitely take some lessons and ideas from, now.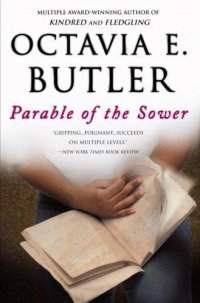 PUBLISHED
New York : Four Walls Eight Windows, c1993.
Year Published: 1993
Description: 299 p. ; 22 cm.
Language: English
Format: Book

READING LEVEL
Lexile: 710

ISBN/STANDARD NUMBER
0446675504
0446601977
9781538732182
9781609807191

SUBJECTS
Twenty-first century -- Fiction.
California -- Fiction.