Press enter after choosing selection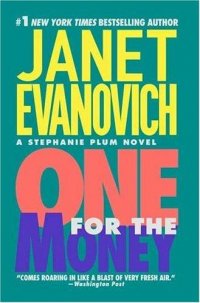 | Location | Call Number | Branch | Item Status |
| --- | --- | --- | --- |
| Westgate Adult Books | Adult Book / Fiction / Mystery / General / Evanovich, Janet | Westgate Branch | In transit |
| Westgate Adult Books | Adult Book / Fiction / Mystery / General / Evanovich, Janet | Westgate Branch | Due 10-02-2020 |
| Pittsfield Adult Books | Adult Book / Fiction / Mystery / General / Evanovich, Janet | Pittsfield Branch | Due 10-08-2020 |
Out of work and out of money, Stephanie Plum lands a job as bounty hunter and her first prey is, guess who? None other than Joe Morelli, the macho pig who deflowered her in high school and bragged on the lavatory wall of Mario's Sub Shop. Now a cop, he is wanted for murder. The intriguing thing is she still rather fancies him and even more intriguing is that he will save her life. A debut in fiction.

REVIEWS & SUMMARIES
Library Journal Review
Booklist Review
Publishers Weekly Review
Summary / Annotation
Fiction Profile
Author Notes
COMMUNITY REVIEWS
an oldie submitted by lawrencekl57 on July 16, 2011, 4:52pm It's been such a long time that I don't remember much about this book, but I'm looking forward to it becoming a movie soon!
LOL submitted by jjdijkstra81 on July 24, 2011, 12:48am A friend of mine recommended this book. I have never cared for romance books before, but I love the adventure and the characters in these books! I am hooked for life. If the movie comes out, I'll never see it- I"m just that type of gal. Ruins the images of them in my head. Anywho, every book I read, I laugh out loud. Love em. Keep em coming Janet!
Love 'em submitted by mydnytelites on July 29, 2011, 7:36am The Plum Novels are great, I pretty much laugh my way through them do to the predicaments that Stephanie gets herself into. I usually can't wait until the new one comes out & have to read it the day it does.
Great start! submitted by camismom2 on June 18, 2014, 10:15am The Stephanie Plum book "One for the Money" is a great start to a fun series. Great beach reads. I have read them in order, which I recommend, and I have reread the entire series a second time. I look forward to each of her new releases, as well as the books she co-authors.
Enjoyable submitted by samanthar on March 1, 2017, 11:17am This book was a very enjoyable, light read. It's not something you dig deep into, but it's a perfect beach read, or a nice in-between book before starting something heavier. The plot moves forward, the dialogue is witty, and the characters are likeable. The writing style is straight and to the point, with a good dose of humor. Lucky for me, there's 23 more books in the series to be enjoyed!
OFTM submitted by a2sue on July 23, 2017, 5:25am Who knew that One for the Money would be the beginning of a fabulous series of more than 20 novels to date? It was a great beginning and I love Stephanie Plum! She's the best bumbling bounty hunter in 50 states!!!
The submitted by Anthany on August 8, 2020, 11:26pm For the money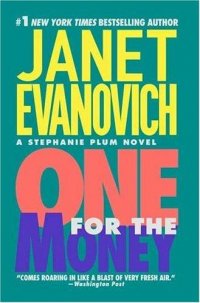 SERIES
Stephanie Plum
1.

PUBLISHED
New York : Scribner's, 1994.
Year Published: 1994
Description: 290 p. ; 25 cm.
Language: English
Format: Book

ISBN/STANDARD NUMBER
0684196395
0312600739

SUBJECTS
Plum, Stephanie (Fictitious character)
Women detectives -- New Jersey -- Fiction.
Bounty hunters -- Fiction.
Trenton (N.J.) -- Fiction.
Mystery fiction.