Press enter after choosing selection
Good Night, Gorilla
Rathmann, Peggy. Book - 1994 E RAT None on shelf 4 requests on 1 copy Community Rating: 4.6 out of 5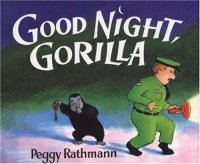 | Location | Call Number | Branch | Item Status |
| --- | --- | --- | --- |
| Downtown Kids Books | E RAT | Downtown Library | Due 04-17-2021 |
An unobservant zookeeper is followed home by all the animals he thinks he has left behind in the zoo.

REVIEWS & SUMMARIES
School Library Journal Review
Booklist Review
Publishers Weekly Review
Summary / Annotation
Fiction Profile
Author Notes
COMMUNITY REVIEWS
New Take on Goodnight Stories submitted by Susan Hopkins on August 12, 2011, 9:26am Nate says, "This is a really funny book!"
Good Night Gorilla submitted by Motomori on June 22, 2013, 1:57pm SUch a great book. I used to love it soo much. So many great childhood memories...
Cute submitted by tomiwa on June 22, 2013, 1:58pm I loved this, it was awesome
no words.. submitted by Sylwia on July 17, 2013, 8:24pm just an adorable book, It doesn't have many words. The illustrations are amazing and each time we read it we discovered something new. keep an eye out for the red balloon. beautifully made. a true classic
Details, Details submitted by Jan Wolter on July 20, 2013, 6:48pm This book only has a few words, but like many of Peggy Rathmann's book, the charm is in all the tiny details. The pictures on the wall in the zookeeper's house reveal a long saga of the love with which the zookeeper and his wife care for the animals in the zoo. And there is a whole subplot about a loving mouse working hard to make a gift. A charming book.
Good Night, Gorilla submitted by SBNB on August 21, 2015, 1:03pm Not many words, but the pictures are nice. The story is cute. My toddler enjoyed it.
:) submitted by Xris on August 3, 2017, 4:41pm Our summer preschoolers love watching the sneaky gorilla let all the animals out of their cages, and love acting it out with paper puppets!
fun submitted by ying zhang monica on August 30, 2017, 9:08pm It is a very fun story,it is also sweet.
Nice submitted by pepemama on June 15, 2018, 3:26pm Very nice story

so sweet! submitted by jessNU on July 30, 2018, 1:12pm Such a charming, sweet children's book - highly recommend for little ones.
one of the best board books submitted by camelsamba on August 12, 2018, 8:46pm I loved reading this to my toddlers, and regularly give it as a new baby gift. It's full of hidden details that you can point out as you tell the story, plus you get to make fun animal sounds!
Classic submitted by TLW1998 on July 11, 2019, 9:44pm Make up words to this fun book for toddlers
Good night, gorilla submitted by dree411 on August 31, 2019, 3:55pm That mischievous gorilla makes this book so fun!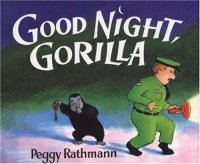 PUBLISHED
New York : Putnam, c1994.
Year Published: 1994
Description: 1 v. (unpaged) : col. ill. ; 19 x 22 cm.
Language: English
Format: Book

ISBN/STANDARD NUMBER
0399224459

SUBJECTS
Zoo animals -- Fiction.
Zoos -- Fiction.