Press enter after choosing selection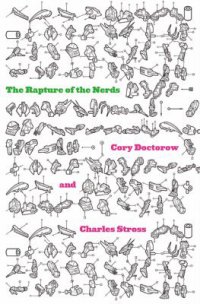 Locations
Call Number: Adult Book / Fiction / Science Fiction / General / Doctorow, Cory, Science Fiction
On Shelf At: Malletts Creek Branch, Westgate Branch

| Location | Call Number | Branch | Item Status |
| --- | --- | --- | --- |
| Malletts Adult Books | Adult Book / Fiction / Science Fiction / General / Doctorow, Cory | Malletts Creek Branch | On Shelf |
| Westgate Adult Books | Adult Book / Fiction / Science Fiction / General / Doctorow, Cory | Westgate Branch | On Shelf |
| Downtown 2nd Floor | Science Fiction | Downtown Library | Due 12-22-2019 |
"A Tom Doherty Associates book."
A tale set at the end of the twenty-first century finds the planet's divided hominid population subjected to the forces of a splintery metaconsciousness that inundates networks with plans for cataclysmic technologies, prompting an unwitting jury member to participate in a grueling decision.

REVIEWS & SUMMARIES
Library Journal Review
Booklist Review
Publishers Weekly Review
Summary / Annotation
Author Notes
COMMUNITY REVIEWS
Metaconsciousness submitted by Jen Chapin-Smith on June 17, 2014, 7:43pm Our protagonist, Huw, hates technology. He lives in an old house without links to the Internet, works with pottery the old-fashioned way and is especially bitter since his parents uploaded their consciousness to the Internet-like satellite in orbit. This satellite, "The Cloud," contains the consciousness and memories of millions of people who have "raptured" themselves into it. Nonetheless Huw signs up to participate in a High Tech Jury, which decided whether new technology set to Earth from"the Cloud" is acceptable or should be destroyed. He sets out to the jury deliberation building in a far off city by means of very cheap travel accommodations. Of course, nothing goes as planned. He meets with one roadblock after another, from forced gender changes, to forced uploads to, to forced conversions into various religions.
While I enjoyed the book, others see it as a sprawling, disorganized story, which may be a stylistic method to reflect Huw's ever changing and extremely diverse society. This may also be because the novel is a mélange of two novellas by Cory Doctorow and Charles Stross, "Jury Duty" and "Appeals Court", with a third and newer section, "Parole Board" added to it.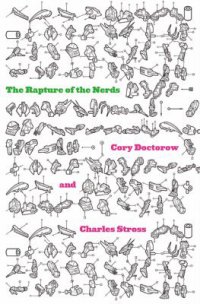 PUBLISHED
New York : Tor, 2012.
Year Published: 2012
Description: 349 p.
Language: English
Format: Book

ISBN/STANDARD NUMBER
9780765329103

ADDITIONAL CREDITS
Stross, Charles.

SUBJECTS
Science fiction.