Press enter after choosing selection
The Ultimate Cheapskate's Road Map To True Riches : : A Practical (And Fun) Guide To Enjoying Life More By Spending Less
Yeager, Jeff. Book - 2008 332.024 Ye 2 On Shelf No requests on this item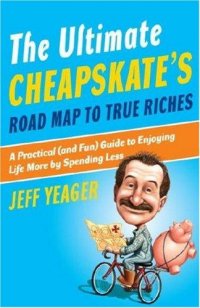 Locations
Call Number: 332.024 Ye
On Shelf At: Downtown Library

| Location | Call Number | Branch | Item Status |
| --- | --- | --- | --- |
| Downtown 2nd Floor | 332.024 Ye | Downtown Library | On Shelf |
| Downtown 2nd Floor | 332.024 Ye | Downtown Library | On Shelf |
| Downtown 2nd Floor | 332.024 Ye | Downtown Library | Due 04-11-2018 |
| Malletts Adult | 332.024 Ye | Malletts Creek Branch | Due 04-05-2018 |
Introduction : the money step -- Fiscal fasting : the first step down the road to true riches -- Six golden rules for ruling your gold -- Warning : money may be hazardous to your health -- Buy a home, not a castle -- Slow down. You'll get there faster -- An Amish guy's guide to the digital age -- Now that's entertainment -- Getting your nest egg laid -- Conclusion : go forth and be cheap.

REVIEWS & SUMMARIES
Publishers Weekly Review
Summary / Annotation
Fiction Profile
Author Notes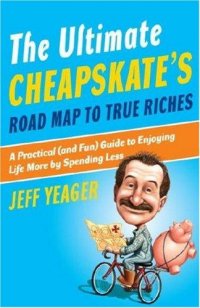 PUBLISHED
New York : Broadway Books, c2008.
Year Published: 2008
Description: xiv, 241 p. ; 21 cm.
Language: English
Format: Book

ISBN/STANDARD NUMBER
9780767926959 (trade pbk.)
0767926951 (trade pbk.)

SUBJECTS
Finance, Personal.