Press enter after choosing selection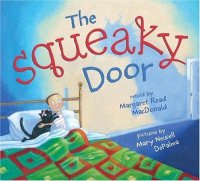 Locations
Call Number: J 398.20972 MacD, Kids Book / Picture Books / Fairy Tales & Folklore / General / Macdonald, Margaret Read
On Shelf At: Downtown Library, Malletts Creek Branch

Location

& Checkout Length

Call Number
Checkout Length
Item Status
Downtown Kids Books
4-week checkout
J 398.20972 MacD
4-week checkout
On Shelf
Downtown Kids Books
4-week checkout
J 398.20972 MacD
4-week checkout
Due 06-15-2023
Malletts Kids Books
4-week checkout
Kids Book / Picture Books / Fairy Tales & Folklore / General / Macdonald, Margaret Read
4-week checkout
On Shelf
When Little Boy is frightened by a squeaky bedroom door, his grandmother brings in various animals to help him feel secure enough tosleep. Includes notes on the story's origins.

REVIEWS & SUMMARIES
School Library Journal Review
Booklist Review
Publishers Weekly Review
Summary / Annotation
COMMUNITY REVIEWS
this is a really funy book submitted by ferdoble on August 8, 2011, 4:24pm I like this book a lot. it starts off slow, but as the weirdness mounts it just gets better and better

super cute picture book submitted by manz on August 11, 2014, 10:15am A great picture book for preschoolers. Lots of funny repitition. And a horse in a bed! That's just funny altogether.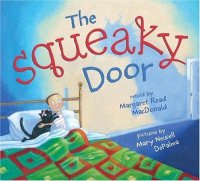 PUBLISHED
New York : HarperCollinsPublishers, c2006.
Year Published: 2006
Description: 1 v. : col. ill. ; 24 x 27 cm.
Language: English
Format: Book

READING LEVEL
Lexile: 250

ISBN/STANDARD NUMBER
0060283734
9780060283735
0060283742 (lib. bdg.)
9780060283742 (lib. bdg.)

ADDITIONAL CREDITS
DePalma, Mary Newell.

SUBJECTS
Folklore -- Puerto Rico.
Bedtime -- Folklore.
Grandmothers -- Folklore.