Press enter after choosing selection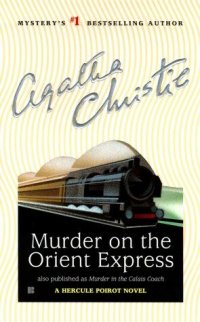 Location

& Checkout Length

Call Number
Checkout Length
Item Status
Pittsfield Adult Books
4-week checkout
Adult Book / Fiction / Mystery / Classic / Christie, Agatha
4-week checkout
On Hold Shelf
Malletts Adult Books
4-week checkout
Adult Book / Fiction / Mystery / Classic / Christie, Agatha
4-week checkout
Due 05-18-2023
Westgate Adult Books
4-week checkout
Adult Book / Fiction / Mystery / Classic / Christie, Agatha
4-week checkout
Due 06-29-2023
Originally published as: Murder in the Calais coach. New York : Dodd, Mead, 1933.
While en route from Syria to Paris, in the middle of a freezing winter's night, the Orient Express is stopped dead in its tracks by a snowdrift. Passengers awake to find the train still stranded and to discover that a wealthy American has been brutally stabbed to death in his private compartment. Incredibly, that compartment is locked from the inside. With no escape into the wintery landscape the killer must still be on board. Fortunately, the brilliant Belgian inspector Hercule Poirot is also on board, having booked the last available berth.

REVIEWS & SUMMARIES
Library Journal Review
Summary / Annotation
Fiction Profile
Author Notes
COMMUNITY REVIEWS
Wonderful submitted by hduke on August 18, 2015, 11:23pm One of Agatha Christie's best
classic submitted by yiziyu81 on June 24, 2016, 2:21pm my favorite fiction
Hercule Poirot at his best submitted by SolaireFQ on July 26, 2016, 7:15pm Poorot solves a murder on a train. A nice twist.
A Tightly Constructed Classic submitted by Meginator on June 27, 2020, 7:03pm This was my first Poirot, and although I had some inkling of the crime's ultimate solution (the book is, after all, a cornerstone of the genre by this point) I still enjoyed watching everything come together. The book itself is somewhat old-fashioned, insofar as the reader is a spectator as Poirot meticulously questions the suspects and mulls over their testimony, but Christie has a gift for carefully revealing information and drawing on seemingly innocuous details from earlier points in the plot. This was a quick and easy read for me but no less enjoyable for its brevity; it's tightly constructed and quite clever, with a very satisfying ending that bucks genre trends in more ways than one.
an interesting ending submitted by VanCancue on August 4, 2020, 6:32pm Poirot's integrity is tested....An interesting ending.
A classic submitted by KatieD on August 5, 2021, 6:32pm I read this as part of a book club and it was really a fun book to read and follow the twists and turns. Thoroughly enjoyed it!
Wonderfully written submitted by ckay15 on August 12, 2021, 10:39am Very enjoyable, quick read with a fantastic ending!
The Classic submitted by suttonp on July 28, 2022, 10:15am The original upon which all others are based. Intriguing, fun and exotic!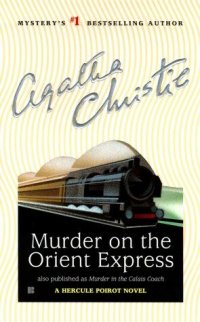 SERIES
Hercule Poirot mysteries
10


PUBLISHED
New York : Harper, 2011.
Year Published: 2011
Description: 315 pages ; 18 cm.
Language: English
Format: Book

ISBN/STANDARD NUMBER
9780062073501
0062073508
9780062073495

SUBJECTS
Poirot, Hercule (Fictitious character)
Private investigators -- England -- Fiction.
Orient Express (Express train) -- Fiction.
Detective and mystery fiction.