Press enter after choosing selection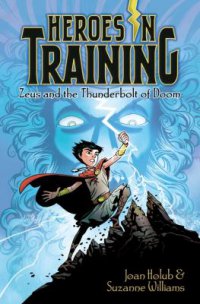 | Location | Call Number | Branch | Item Status |
| --- | --- | --- | --- |
| Malletts Kids Books | Kids Book / Fiction / Fantasy & Myth / Heroes in Training 1 | Malletts Creek Branch | On Hold Shelf |
| Downtown Kids Books | J Fiction / Heroes in Training | Downtown Library | Due 05-08-2021 |
| Traverwood Kids Books | Kids Book / Fiction / Fantasy & Myth / Heroes in Training 1 | Traverwood Branch | Due 04-05-2021 |
| Westgate Kids Books | Kids Book / Fiction / Fantasy & Myth / Heroes in Training 1 | Westgate Branch | Due 04-20-2021 |
When ten-year-old Zeus is kidnapped, he discovers he can defend himself with a magical thunderbolt.

REVIEWS & SUMMARIES
School Library Journal Review
Booklist Review
Summary / Annotation
Author Notes
COMMUNITY REVIEWS
GREAT BOOK submitted by Joyce Buchanan on July 29, 2013, 1:31pm I by far recommend this book, it is intense and I say this because in one part the main character is hiding under a table and a warrior comes over and lifts the table up. The main character is easy to imagine, and the main character is Zeus at the age of ten. In parts it's funny because his magical thunderbolt he found on top of the table he hid under has to much power for him, plus he does not like it,... so he tries to get it off when he figures out it's stuck to his hand. So altogether I would give it 5 stars.
Really good submitted by lulumama on July 20, 2014, 8:17am We wish the library carried the entire series!
Good submitted by raymondkangasjr on August 27, 2014, 9:15am Surprised that my 7 year old boy didn't really enjoy reading this book. He is reading regular chaper books now but this one he wasn't very interested in.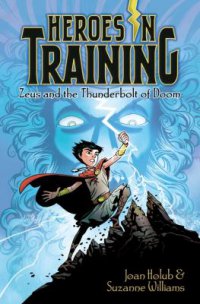 SERIES
Heroes in training
1.

PUBLISHED
New York : Aladdin, 2012.
Year Published: 2012
Description: 100 p. : ill. ; 22 cm.
Language: English
Format: Book

READING LEVEL
Lexile: 570

ISBN/STANDARD NUMBER
9781442457874
1442457872

ADDITIONAL CREDITS
Holub, Joan.
Williams, Suzanne, 1953-

SUBJECTS
Zeus (Greek deity) -- Fiction.
Mythology, Greek -- Fiction.
Lightning -- Fiction.
Giants -- Fiction.