Press enter after choosing selection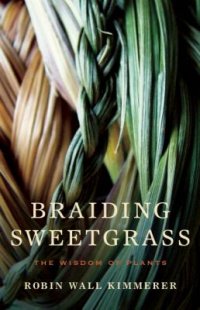 Locations
Call Number: 305.897 Ki, Adult Book / Nonfiction / Science & Nature / Plants / Kimmerer, Robin Wall
On Shelf At: Malletts Creek Branch, Pittsfield Branch, Traverwood Branch

Location

& Checkout Length

Call Number
Checkout Length
Item Status
Downtown 2nd Floor
4-week checkout
305.897 Ki
4-week checkout
In transit
Downtown 2nd Floor
4-week checkout
305.897 Ki
4-week checkout
On Hold Shelf
Downtown 2nd Floor
4-week checkout
305.897 Ki
4-week checkout
Due 03-04-2023
Downtown 2nd Floor
4-week checkout
305.897 Ki
4-week checkout
Due 04-06-2023
Downtown 2nd Floor
4-week checkout
305.897 Ki
4-week checkout
Due 04-05-2023
Downtown 2nd Floor
4-week checkout
305.897 Ki
4-week checkout
Due 04-08-2023
Downtown 2nd Floor
4-week checkout
305.897 Ki
4-week checkout
Due 03-24-2023
Downtown 2nd Floor
4-week checkout
305.897 Ki
4-week checkout
Due 04-08-2023
Downtown 2nd Floor
4-week checkout
305.897 Ki
4-week checkout
Due 04-08-2023
Downtown 2nd Floor
4-week checkout
305.897 Ki
4-week checkout
Due 03-30-2023
Downtown 2nd Floor
4-week checkout
305.897 Ki
4-week checkout
Due 04-17-2023
Downtown 2nd Floor
4-week checkout
305.897 Ki
4-week checkout
Due 03-15-2023
Malletts Adult Books
2-week checkout
Express Shelf Adult Book / Nonfiction / Science & Nature / Plants / Kimmerer, Robin Wall
2-week checkout
On Shelf
Malletts Adult Books
2-week checkout
Express Shelf Adult Book / Nonfiction / Science & Nature / Plants / Kimmerer, Robin Wall
2-week checkout
Due 03-23-2023
Pittsfield Adult Books
2-week checkout
Express Shelf Adult Book / Nonfiction / Science & Nature / Plants / Kimmerer, Robin Wall
2-week checkout
On Shelf
Traverwood Adult Books
2-week checkout
Express Shelf Adult Book / Nonfiction / Science & Nature / Plants / Kimmerer, Robin Wall
2-week checkout
Reshelving
Westgate Adult Books
2-week checkout
Express Shelf Adult Book / Nonfiction / Science & Nature / Plants / Kimmerer, Robin Wall
2-week checkout
In transit
Westgate Adult Books
4-week checkout
Adult Book / Nonfiction / Science & Nature / Plants / Kimmerer, Robin Wall
4-week checkout
On Hold Shelf
Westgate Adult Books
4-week checkout
Adult Book / Nonfiction / Science & Nature / Plants / Kimmerer, Robin Wall
4-week checkout
Due 04-01-2023
Westgate Adult Books
4-week checkout
Adult Book / Nonfiction / Science & Nature / Plants / Kimmerer, Robin Wall
4-week checkout
Due 03-18-2023
Westgate Adult Books
4-week checkout
Adult Book / Nonfiction / Science & Nature / Plants / Kimmerer, Robin Wall
4-week checkout
Due 04-06-2023
Westgate Adult Books
4-week checkout
Adult Book / Nonfiction / Science & Nature / Plants / Kimmerer, Robin Wall
4-week checkout
Due 03-26-2023
Malletts Adult Books
4-week checkout
Adult Book / Nonfiction / Science & Nature / Plants / Kimmerer, Robin Wall
4-week checkout
Due 03-23-2023
Pittsfield Adult Books
4-week checkout
305.897 Ki
4-week checkout
Due 04-12-2023
"Indigenous wisdom, scientific knowledge, and the teachings of plants" -- cover.
Planting Sweetgrass -- Skywoman Falling -- The Council of Pecans -- The Gift of Strawberries -- An Offering -- Asters and Goldenrod -- Learning the Grammar of Animacy -- Tending Sweetgrass -- Maple Sugar Moon -- Witch Hazel -- A Mother's Work -- The Consolation of Water Lilies -- Allegiance to Gratitude -- Picking Sweetgrass -- Epiphany in the Beans -- The Three Sisters -- Wisgaak Gokpenagen: a Black Ash basket -- Mishkos Kenomagwen : The Teachings of Grass -- Maple Nation: A Citizenship Guide -- The Honorable Harvest -- Braiding Sweetgrass -- In the Footsteps of Nanabozho: Becoming Indigenous to Place -- The Sound of Silverbells -- Sitting in a Circle -- Burning Cascade Head -- Putting Down Roots -- Umbilicaria: The belly Button of the World -- Old-Growth Children -- Witness to the Rain -- Burning Sweetgrass -- Windigo Footprints -- The Sacred and the Superfund -- People of Corn, People of Light -- Collateral damage -- Shkitagen: People of the Seventh Fire -- Defeating Windigo -- Epilogue: Returning the Gift.
"An inspired weaving of indigenous knowledge, plant science, and personal narrative from a distinguished professor of science and a Native American whose previous book, Gathering Moss, was awarded the John Burroughs Medal for outstanding nature writing. As a botanist and professor of plant ecology, Robin Wall Kimmerer has spent a career learning how to ask questions of nature using the tools of science. As a Potawatomi woman, she learned from elders, family, and history that the Potawatomi, as well as a majority of other cultures indigenous to this land, consider plants and animals to be our oldest teachers. In Braiding Sweetgrass, Kimmerer brings these two lenses of knowing together to reveal what it means to see humans as "the younger brothers of creation." As she explores these themes she circles toward a central argument: the awakening of a wider ecological consciousness requires the acknowledgement and celebration of our reciprocal relationship with the world. Once we begin to listen for the languages of other beings, we can begin to understand the innumerable life-giving gifts the world provides us and learn to offer our thanks, our care, and our own gifts in return"-- Provided by publisher.
"As a leading researcher in the field of biology, Robin Wall Kimmerer understands the delicate state of our world. But as an active member of the Potawatomi nation, she senses and relates to the world through a way of knowing far older than any science. In Braiding Sweetgrass, she intertwines these two modes of awareness--the analytic and the emotional, the scientific and the cultural--to ultimately reveal a path toward healing the rift that grows between people and nature. The woven essays that construct this book bring people back into conversation with all that is green and growing; a universe that never stopped speaking to us, even when we forgot how to listen"-- Provided by publisher.

REVIEWS & SUMMARIES
Library Journal Review
CHOICE Review
Publishers Weekly Review
Summary / Annotation
Table of Contents
Fiction Profile
Author Notes
COMMUNITY REVIEWS
Lyrical and earthy submitted by mowjac on August 28, 2018, 10:42am Kimmerer writes evocatively about nature, Native Americans, science and indigenous wisdom. I loved this book--from the story of the PHD student studying sweetgrass use by basketmakers and what that meant for the resource, to the Haudenosaunee Thanksgiving Prayer to hearing about her daughters and the pond--all very human, held stories.
Uplifting submitted by Nick442 on August 4, 2019, 7:26pm This book is a great way to gain an understanding of how indigenous peoples viewed our relationship with the earth. Growing up in the rural country, this book made me long for home, and its ways.
Gives you hope submitted by flemingj on July 25, 2020, 9:12am The author reads the audio and after a while it feels like she is telling you these stories. Certainly makes you think about nature in a different way.
Rich in information, exceptionally beautiful writing submitted by 21621031390949 on June 11, 2021, 2:13pm Wonderful book with exceptionally beautiful writing. It's so delightful how the author weaves
hard botany in with indigenous teaching and philosophy. There's a lot to take in, and I recommend reading it slowly and in shorter doses over time. Since it's really a series of essays, rather than a book with a linear progression, it can be easily read in increments.

How I wish I could prescribe this book as required reading for all corporate people, business people, and policy makers! Think how different our world would be if we all appreciated the need for reciprocity with the Earth, rather than thinking of Nature as a commodity from which to take things!
Important, but I had mixed feelings about this book submitted by Susan4Pax -prev. sueij- on June 15, 2021, 10:11pm There was a lot to love about this book, but (and I know this will be controversial) a lot I did not admire about it as well.

What I loved: Kimmerer paints beautiful stories with words. She makes a reader feel her love for nature. She excels at describing the science of plants, and combining that with Indigenous peoples' histories and practices. This is, of course, the focus of the book, and she does it beautifully. She describes her teaching methods with joyful delight.

She also does it interminably. The stories ran together for me, and I think cutting 50-100 pages would have made for a better book because through the middle, the *sense* of each chapter felt much like the sense of most other chapters. Through the middle as well, I could not find a narrative path (as opposed to the beginning and ends, where there were clear introductory and resolution goals embedded in the stories), so I found the stories to run on, and had a hard time picking the book up.

But mostly for me, I found Kimmerer's depiction of absolute perfection of Indigenous ways of living and the near absolute destruction of White/European ways of living to be disingenuous. I *agree* that there is wisdom in many of the Indigenous relationships with the land… but many tribes also held slaves. And it's *great* that they had practices that taught sustainable harvesting… but if that was so perfect and the Earth "took care of them in return," why was the full moon in the middle of winter called the "Hunger Moon"? Kimmerer decries the perspectives and actions of the White/European/Western world, but generally those are the perspectives of the same systems that have kept women out of power. Why doesn't she make this about gender, then? Because when women enter (Western) science, as I expect she well knows as a woman who has fought her way into higher level science in academia, the perspectives and work change. She identifies as Anishinabekwe (Potawatami), but also names that she has ancestors who were French, Irish, and Welsh. I read her book as an idealization of one, and an overgeneralization and sometimes misrepresentation of the other. I do not think that this ever serves in the long run.

This is an important book, partly because it invites readers to a new engagement with nature, and partly because White readers need to read more diverse perspectives. But doing that does not always mean blindly agreeing that every statement is perfect and on target.
Braiding Sweetgrass submitted by downing on August 7, 2022, 3:59pm LIFE CHANGING!
Beautiful and important! submitted by khrobinson on August 27, 2022, 3:13pm So much depth and thoughtfulness in this book. It's full of wisdom and feeling and important insights, especially for those who are unfamiliar with indigenous ways of knowing.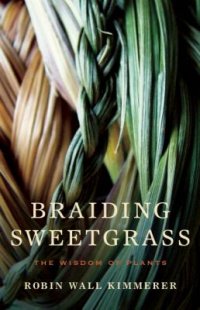 PUBLISHED
Minneapolis, Minnesota : Milkweed Editions, 2013.
Year Published: 2013
Description: 390 pages ; 23 cm.
Language: English
Format: Book

ISBN/STANDARD NUMBER
9781571313355
9781571311771

SUBJECTS
Kimmerer, Robin Wall.
Native American philosophy.
Indigenous peoples -- Ecology.
Philosophy of nature.
Human ecology -- Philosophy.
Nature -- Effect of human beings on.
Human-plant relationships.
Botany -- Philosophy.
Citizen Potowatomi Nation -- Biography.
Citizen Potowatomi Nation -- Social life and customs.
Indigenous Peoples of North America.