Press enter after choosing selection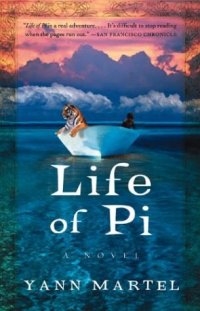 | Location | Call Number | Branch | Item Status |
| --- | --- | --- | --- |
| Downtown 2nd Floor | Fiction / Martel, Yann | Downtown Library | In transit |
| Malletts Adult Books | Adult Book / Fiction / General / Martel, Yann | Malletts Creek Branch | In transit |
REVIEWS & SUMMARIES
Library Journal Review
Booklist Review
Publishers Weekly Review
Summary / Annotation
Fiction Profile
Author Notes
COMMUNITY REVIEWS
Enjoyable fiction on faith and survival submitted by Kenation on August 31, 2010, 6:17pm Martel's character, Pi, takes an interesting perspective on Hinduism, Islam, and Christianity. His insightful comparisons should be read by everyone from any religious background for a bit of reflection. The harrowing tale of survival on a lifeboat is made uniquely more complex with a Bengal tiger on board. I enjoyed the read for both its philosophical nature and its entertainment value.
Room for Interpretation submitted by eringogreen on June 29, 2011, 10:31pm One of my favorite things about books is when there is room for interpretation, and you can definitely find that in Life of Pi. It's the type of book that you'll find yourself thinking about after you've finished it and still trying to piece it together in a different way. Why it is categorized as teen fiction, I dont know, I think it's a great adult read.
Great submitted by Chris82 on July 28, 2011, 9:55pm I loved this book. I would have preferred a more specific and happier ending to the book but overall it was amazing and very well written.
thoughtful submitted by jmock on July 28, 2012, 3:28pm This book made me think a lot. It didn't stick to the the cliche new age-y way of thinking things, which was refreshing to me.
Expect the Unexpected submitted by Sara W on August 2, 2012, 7:06am This book does an incredible job of creating a bizarre and intense reality and then completely turning it around at the end. This book is fully engaging, and manages to make the reader question everything they've been so absorbed in throughout the novel. Not only that, Martel manages to do it with a degree of humor that it is surprising and very welcome given the extremity of the situation.

I've recommended it often to others, and have heard that the first part of the book, about Pi's life in India and the development of his interest in each of the major world religions is a little slow. I think it all works together beautifully, but understand that it's a rather slow start for those expecting a story of shipwreck and survival from page one.
Educational and Entertaining submitted by yojasor on July 16, 2013, 7:32pm This book captures your attention and truly transports you into someone else's life (in this case Pi's life). I was also surprised about how educational the book turned out to be. I learned a lot about the true pressures of survival and a lot about zoos and animals. It was a great story, and it gives just the right amount of room for interpretation.
Fantastic submitted by sueij on August 26, 2013, 9:08am I ran out of books while on a getaway weekend with my husband, and found this for the trip home.

At page 71 I thought, "When do we get to the STORY? This background is all well and good, but a story is when 'something happens, and therefore something changes.' When is something going to HAPPEN?"

At page 120 I thought, "Here it is!" and couldn't put the book down for the next 300 pages.

Fantastic.
Great submitted by cowmooflage on July 14, 2014, 11:39pm Surprisingly entertaining considering he is on a boat almost the whole time
Life Of Pi submitted by Fevvers - STAR473 on July 8, 2016, 6:57pm A graceful book about a strange and traumatic journey. I enjoyed the background of the character as well as the magical realism approach to the adventure and travails.
A beautiful story submitted by RowanEMH on July 9, 2016, 8:24am This book is a beautiful allegory. It is philosophical with strong storytelling.
Very Well Written submitted by jmb.mlis on July 9, 2016, 11:09pm So well written. Great for teens as well as adults.
Do both submitted by Judeyblu on July 11, 2016, 7:20pm I enjoyed reading the book then seeing the movie.
In this rare instance I think the movie helped bring the lushness of the words and the open interpretation together.
Fantastic submitted by rebecca.perreault on August 8, 2018, 4:45pm While the writing style and imagery is fantastic, more important to me, this book made me consider my own beliefs and values. For two weeks after I closed the last page, I was still digesting the thoughts I developed experiencing this book.
Great submitted by pepemama on June 15, 2019, 10:20am A classic, a new take on stranded on the sea type of books. Great writing
Great read for all submitted by crp on August 5, 2019, 7:55am Adapted into a stunning movie, the book is even better. Great read for all, not just teens.
Different submitted by Sinister_CottonCandy on August 28, 2019, 11:10am This book was really captivating. It was also different and pretty sad. Great read.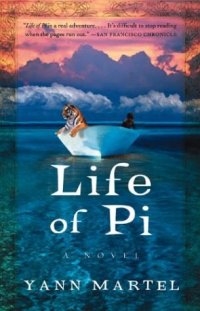 PUBLISHED
New York : Harcourt, c2001.
Year Published: 2001
Description: 319 p. ; 24 cm.
Language: English
Format: Book

READING LEVEL
Lexile: 830

ISBN/STANDARD NUMBER
9780156027328

SUBJECTS
Survival after airplane accidents, shipwrecks, etc. -- Fiction.
Human-animal relationships -- Fiction.
Storytelling -- Fiction.
Teenage boys -- Fiction.
Ocean travel -- Fiction.
Zoo animals -- Fiction.
Orphans -- Fiction.
Tigers -- Fiction.
Pacific Ocean -- Fiction.