Press enter after choosing selection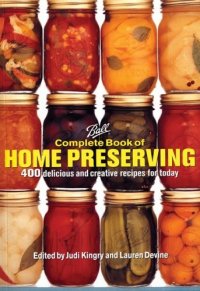 Locations
Call Number: Adult Book / Nonfiction / Cooking / Canning & Preserving / Complete book
On Shelf At: Malletts Creek Branch

Location

& Checkout Length

Call Number
Checkout Length
Item Status
Malletts Adult Books
4-week checkout
Adult Book / Nonfiction / Cooking / Canning & Preserving / Complete book
4-week checkout
On Shelf
COMMUNITY REVIEWS
the one submitted by manz on August 20, 2016, 4:21pm This is the one book you'll need for canning! Yep.
Great submitted by smr on July 4, 2020, 6:51pm Great today
Light on pictures, but full of the info you really need! submitted by eileenw on August 23, 2021, 12:19am This really could be your one and only go-to canning recipe book.

For example, it has a dozen different relish recipes alone.

That depth and variety is mirrored in all the usual sections (jams/jellies, fruit, pickles, tomatoes, pressure canning).

But what really seals the deal is the conversion chart in the back that gives you an idea how quarts translate to pounds for different types of produce, so you don't have to feel clueless if a recipe calls for X pounds but your grower only sells by the quart or bushel (or vice versa).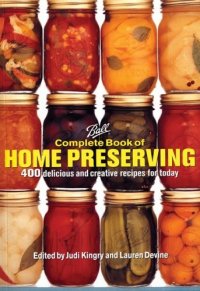 PUBLISHED
Toronto : R. Rose, 2006.
Year Published: 2006
Language: English
Format: Book

ISBN/STANDARD NUMBER
077880139X (bound) :
0778801314 (pbk.) :

ADDITIONAL CREDITS
Kingry, Judi.
Devine, Lauren.
Ball Corporation.

SUBJECTS
Canning and preserving.
Fruit -- Preservation.
Vegetables -- Preservation.
Cooking (Fruit)
Pickles.
Cooking (Vegetables)