Press enter after choosing selection
45 Pounds (More or Less)
Barson, K. A. Book - 2013 None on shelf 1 request on 0 copies Community Rating: 4.5 out of 5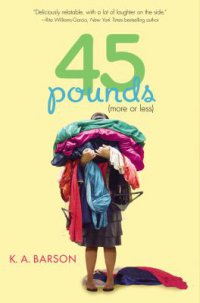 AADL has no copies of this item

"When Ann decides that she is going to lose 45 pounds in time for her aunt's wedding, she discovers that what she looks like is not all that matters"-- Provided by publisher.

REVIEWS & SUMMARIES
School Library Journal Review
Booklist Review
Publishers Weekly Review
Summary / Annotation
Fiction Profile
Author Notes
COMMUNITY REVIEWS
Nice YA read submitted by Juliettie on August 13, 2013, 6:29pm I often enjoy YA reads and this one was quick and fun. She actually reminded me a lot of myself at her age. Scary. Everything turns out a bit too rosy for Ann, but it's better than the disease-of-the-week, disaster, dead parents stories that most YA novels seem to be based around.
Good, Modern Story submitted by Beth Manuel on June 13, 2014, 3:40pm This was a great read written by Jackson, Michigan author K.A. Barson. It explores the concept of body image, teen girls and their moms. The wedding that Ann was trying to lose weight for was for her Aunt in a lesbian relationship. The book touched on homophobia as well. I recommend this book as a great summer read.
Good submitted by DL on August 2, 2018, 10:53am Such an honest look at weight issues in a good family story.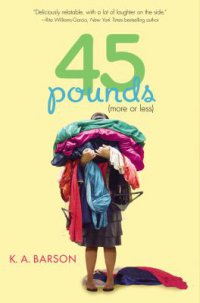 PUBLISHED
New York : Viking, c2013.
Year Published: 2013
Description: 264 p. ; 22 cm.
Language: English
Format: Book

ISBN/STANDARD NUMBER
9780670784820
0670784826

SUBJECTS
Self-esteem -- Fiction.
Family problems -- Fiction.
Weight loss -- Fiction.
Overweight persons -- Fiction.
Stepfamilies -- Fiction.