Press enter after choosing selection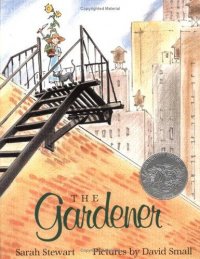 Locations
Call Number: E STE, R Caldecott Honor 1998, Kids Book / Picture Books / General / Stewart, Sarah
On Shelf At: Pittsfield Branch

| Location | Call Number | Branch | Item Status |
| --- | --- | --- | --- |
| Downtown Kids Books | E STE | Downtown Library | On Hold Shelf |
| Downtown Kids Reference | R Caldecott Honor 1998 | Downtown Library | Library Use Only |
| Pittsfield Kids Books | Kids Book / Picture Books / General / Stewart, Sarah | Pittsfield Branch | On Shelf |
| Pittsfield Kids Books | Kids Book / Picture Books / General / Stewart, Sarah | Pittsfield Branch | Due 09-08-2020 |
| Traverwood Kids Books | Kids Book / Picture Books / General / Stewart, Sarah | Traverwood Branch | Due 08-25-2020 |
| Westgate Kids Books | Kids Book / Picture Books / General / Stewart, Sarah | Westgate Branch | Due 09-03-2020 |
Youth level.
A series of letters relating what happens when, after her father loses his job, Lydia Grace goes to live with her Uncle Jim in the city but takes her love for gardening with her.

REVIEWS & SUMMARIES
School Library Journal Review
Booklist Review
Publishers Weekly Review
Summary / Annotation
Fiction Profile
Author Notes
COMMUNITY REVIEWS
Letters submitted by r-chopra on July 20, 2012, 12:00pm Chk out letters. Super cool !
Favorite Book submitted by Berryak on July 20, 2014, 9:44am This is one of my favorites of all time. Written in epistolary format, it details a little girl's extended visit to the city to live with her uncle due to the hardships of the depression. Like Stewart's The Friend, it's a happy tear-jerker with beautiful illustrations. Great for parents and kids alike!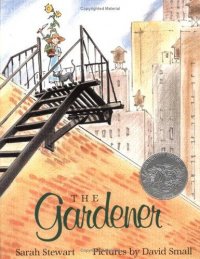 SERIES
Caldecott Honor book - 1998.

PUBLISHED
New York : Farrar Straus Giroux, 1997.
Year Published: 1997
Description: 1 v. (unpaged) : col. ill. ; 28 cm.
Language: English
Format: Book

READING LEVEL
Lexile: 570

ISBN/STANDARD NUMBER
0374325170
0374425183 :

ADDITIONAL CREDITS
Small, David, 1945- .

SUBJECTS
Gardening -- Fiction.
Uncles -- Fiction.
Letters -- Fiction.