Press enter after choosing selection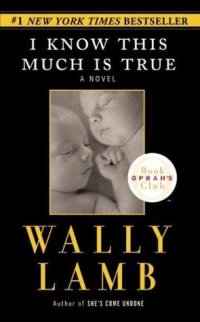 Location

& Checkout Length

Call Number
Checkout Length
Item Status
Malletts Adult Books
4-week checkout
Adult Book / Fiction / General / Lamb, Wally
4-week checkout
On Hold Shelf
For most of his life Dominick Birdsey has been living in the shadow of his schizophrenic identical twin, Thomas, but when Thomas commits a violent act that affects both their lives, Dominick decides to leave his home and search for his true identity.

REVIEWS & SUMMARIES
Summary / Annotation
Fiction Profile
Author Notes
COMMUNITY REVIEWS
East of Eden Read-alike submitted by monkk on June 27, 2011, 6:13pm I couldn't stand the first book I read by Wally Lamb (She's Come Undone) but I decided to read this one when I needed a novel with a character who has schizophrenia for school. I loved it and found it read like East of Eden (Steinbeck). I've read it again since!
Deep Subject Matter, Easy Read submitted by eringogreen on June 28, 2011, 1:40pm This book tackles some pretty deep issues and does so in a realistic way that isn't too depressing or serious. It was one of those books I couldn't help talking about to other people, even though they hadn't read it. Some things happen that you just want to share!
unnecessarily long submitted by 21621031390949 on July 19, 2012, 1:55pm This book, at 897 pages, is about 500 pages too long. It is fairly interesting (though it took a while to get into it), but repetitive. I don't need to have things restated for me several times -- I caught them the first time I read them. Pretty depressing for most of the book, though there is some redemption in the end. Wouldn't recommend it to anyone unless they're in the mood for an epically long novel. Would agree that in some aspects it reminds one of East of Eden, and that other old twin fable -- Cain and Abel.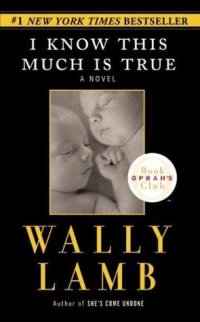 PUBLISHED
New York : Regan Books, [1998]
Year Published: 1998
Description: 901 pages ; 25 cm
Language: English
Format: Book

ISBN/STANDARD NUMBER
9780061469084

SUBJECTS
Italian Americans -- Fiction.
Fathers and sons -- Fiction.
Mentally ill -- Fiction.
Brothers -- Fiction.
Twins -- Fiction.
Psychological fiction.
Domestic fiction.
New England -- Fiction.
United States -- History -- Fiction -- 20th century.
Historical fiction.
Psychological fiction.
Domestic fiction.