Press enter after choosing selection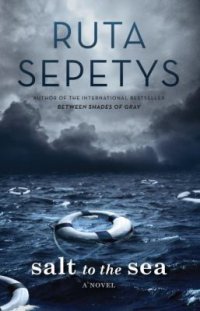 Locations
Call Number: Teen Fiction / Sepetys, Ruta, Teen Book / Fiction / Historical / Sepetys, Ruta
On Shelf At: Downtown Library, Traverwood Branch

Location

& Checkout Length

Call Number
Checkout Length
Item Status
Downtown Teen, 1st Floor
4-week checkout
Teen Fiction / Sepetys, Ruta
4-week checkout
On Shelf
Downtown Teen, 1st Floor
4-week checkout
Teen Fiction / Sepetys, Ruta
4-week checkout
On Shelf
Downtown Teen, 1st Floor
4-week checkout
Teen Fiction / Sepetys, Ruta
4-week checkout
On Shelf
Downtown Teen, 1st Floor
4-week checkout
Teen Fiction / Sepetys, Ruta
4-week checkout
Due 03-26-2023
Traverwood Teen Books
4-week checkout
Teen Book / Fiction / Historical / Sepetys, Ruta
4-week checkout
Reshelving
Malletts Teen Books
4-week checkout
Teen Book / Fiction / Historical / Sepetys, Ruta
4-week checkout
Due 04-22-2023
Westgate Teen Books
4-week checkout
Teen Book / Fiction / Historical / Sepetys, Ruta
4-week checkout
Due 04-28-2023
"As World War II draws to a close, refugees try to escape the war's final dangers, only to find themselves aboard a ship with a target on its hull"-- Provided by publisher.
World War II is drawing to a close in East Prussia, and thousands of refugees are on a desperate trek toward freedom. When their paths converge in route to the ship that promises salvation, Joana, Emilia, and Florian find their strength, courage, and trust in one another tested with each step closer toward safety. When tragedy strikes the Wilhelm Gustloff, they must fight for the same thing: survival.

REVIEWS & SUMMARIES
Library Journal Review
School Library Journal Review
Booklist Review
Publishers Weekly Review
Summary / Annotation
Fiction Profile
Author Notes
COMMUNITY REVIEWS
war disaster submitted by johnbiancke on June 10, 2016, 6:48pm This tragedy will stay with you forever
Amazing! submitted by Nightwhisper1202 on July 5, 2016, 7:56pm I loved this book. It will give many feels. Couldn't put it down.
Historical fiction submitted by Xris on June 16, 2018, 9:19pm Even though it's historical fiction, I still learned a lot about what happened long ago during the Holocaust from this book. Glad I learned about this disaster, sad though it is.
so good submitted by i'm a blobfish on June 22, 2018, 12:31pm if you liked this book, read between shades of gray too!
Salt to the sea submitted by caherne on March 7, 2019, 8:03pm The tragedy and characters of this book will keep you hooked. I couldn´t put it down. I love this book so much!
Really good! submitted by EllieN-W on June 14, 2019, 4:49pm It was very tragic but well written, it was really a page-turner. I would definitely recommend it to anyone that wants to read a good book.
Great submitted by caveman1351 on June 15, 2019, 6:28pm Very great if you are into romance and war
Amazing submitted by c_zhang on June 28, 2019, 12:37am A tragic and powerful story. Exposes a side of history more unknown.
powerful story submitted by camelsamba on July 13, 2019, 9:28pm One of the good things about listening to this as an audiobook: each of the readers was very expressive and conveyed emotion appropriate to the setting.

Drawback of audiobook: I could tell that some of the chapters had parallel constructions, and it would have been more satisfying to quickly flip back and forth between pages to compare them. Likewise some chapters near the end seemed to parallel or tie back to the earliest chapters, and I wanted to compare those.

I listened to this twice in a row. While it was obvious something was off with Alfred from relatively early, his parts were especially eerie/creepy the second time through.
Favorite submitted by sydcha on August 2, 2019, 10:32pm This book is one of my all time favorites. The background descriptions make you feel like you're there, and the characters are achingly real. I cry every time I read this book, and my heart hurts when it's over. Read it, you won't regret it.
Give them a voice submitted by Nay7 on August 20, 2020, 1:07am This book shook me to my core, even into the acknowledgements
salt to the sea submitted by maywang on June 26, 2021, 4:42pm Amazing book, emotional and tragic, this is sure to break your hearts.
Must Read submitted by callmeavni on July 19, 2021, 8:39am Towards the beginning, the format of the book threw me off. I wasn't quite sure how I would like this book. However, when I got to the end, I was surprisingly attached to the characters. This wasn't my favorite book from Ruta Sepetys, but I nevertheless enjoyed it.
Salt to the Sea submitted by maria.wyche on June 15, 2022, 3:56pm This book was incredible. I enjoyed seeing the stories weave together into an interconnected finale and it was really interesting to read about this hidden tragedy.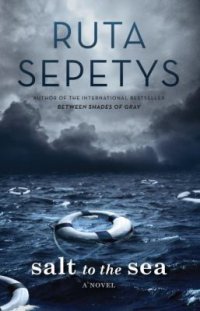 PUBLISHED
New York : Philomel Books, [2016]
Year Published: 2016
Description: 391 pages : maps ; 22 cm.
Language: English
Format: Book

ISBN/STANDARD NUMBER
9780399160301
9780142423622

SUBJECTS
World War, 1939-1945 -- Fiction.
Refugees -- Fiction.
Wilhelm Gustloff (Ship) -- Fiction.
Shipwreck survival -- Fiction.