Press enter after choosing selection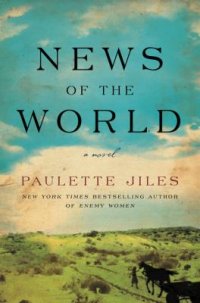 Locations
Call Number: Fiction / Jiles, Paulette, Adult Book / Fiction / Historical / Jiles, Paulette
On Shelf At: Downtown Library, Malletts Creek Branch, Pittsfield Branch, Traverwood Branch, Westgate Branch

Location

& Checkout Length

Call Number
Checkout Length
Item Status
Downtown 2nd Floor
4-week checkout
Fiction / Jiles, Paulette
4-week checkout
On Shelf
Malletts Adult Books
4-week checkout
Adult Book / Fiction / Historical / Jiles, Paulette
4-week checkout
On Shelf
Pittsfield Adult Books
4-week checkout
Adult Book / Fiction / Historical / Jiles, Paulette
4-week checkout
On Shelf
Traverwood Adult Books
4-week checkout
Adult Book / Fiction / Historical / Jiles, Paulette
4-week checkout
On Shelf
Westgate Adult Books
4-week checkout
Adult Book / Fiction / Historical / Jiles, Paulette
4-week checkout
Reshelving
"In the aftermath of the Civil War, an aging itinerant news reader agrees to transport a young captive of the Kiowa back to her people in this exquisitely rendered, morally complex, multilayered novel of historical fiction from the author of Enemy Women that explores the boundaries of family, responsibility, honor, and trust.In the wake of the Civil War, Captain Jefferson Kyle Kidd travels through northern Texas, giving live readings from newspapers to paying audiences hungry for news of the world. An elderly widower who has lived through three wars and fought in two of them, the captain enjoys his rootless, solitary existence.In Wichita Falls, he is offered a 0 gold piece to deliver a young orphan to her relatives in San Antonio. Four years earlier, a band of Kiowa raiders killed Johanna's parents and sister; sparing the little girl, they raised her as one of their own. Recently rescued by the U.S. army, the ten-year-old has once again been torn away from the only home she knows.Their 400-mile journey south through unsettled territory and unforgiving terrain proves difficult and at times dangerous. Johanna has forgotten the English language, tries to escape at every opportunity, throws away her shoes, and refuses to act "civilized." Yet as the miles pass, the two lonely survivors tentatively begin to trust each other, forming a bond that marks the difference between life and death in this treacherous land.Arriving in San Antonio, the reunion is neither happy nor welcome. The captain must hand Johanna over to an aunt and uncle she does not remember--strangers who regard her as an unwanted burden. A respectable man, Captain Kidd is faced with a terrible choice: abandon the girl to her fate or become--in the eyes of the law--a kidnapper himself"-- Provided by publisher.

REVIEWS & SUMMARIES
Summary / Annotation
Author Notes
Library Journal Review
School Library Journal Review
Booklist Review
Publishers Weekly Review
Fiction Profile
COMMUNITY REVIEWS
A Page Turner submitted by tudorprincess on June 20, 2017, 9:53am Highly recommended. It'll keep you on the edge of your seat!
Everyone loved it submitted by lballard on June 15, 2018, 11:36am This is the rare book that everyone in my book club enjoyed. It isn't one of the more challenging ones to read, and isn't very deep, but it is very skillfully written. I'm impressed that the author was able to convey a character's personality so well, despite the character's inability to speak to the people around her. I also appreciated the information at the end about children who were raised by the Native American tribes, and the fact that almost all of them resisted being brought back to live in the white world.
good submitted by kevinhe on August 5, 2019, 4:57pm it's a very wonderful book. great.
A great reader submitted by Whitetnchina on July 21, 2020, 3:04pm It won't disappoint!
Surprisingly Quick Read submitted by GSchne on July 26, 2022, 4:17pm It's good without being too deep or complex. It's the "beach reading" of historical fiction.
Good book, nice audiobook, and a well-done movie submitted by 21621031390949 on July 27, 2022, 12:00am I really enjoyed this story set in late-nineteenth century Texas. I listened to the recorded version which was read (or "performed") very well. It's an unusual story, with interesting and believable characters. Very nicely written.

Update: Just read this again, partly listening to the audio book and also reading the hard copy. Somehow I appreciated the beautiful writing more in the book form, but I found the lack of quotation marks in the dialogue to be confusing and distracting. In this respect the recorded version was better.

A haunting story, though one that is not agony in the reading. Sadness, but also lots of goodness and love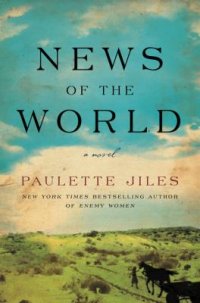 PUBLISHED
New York, NY : William Morrow, [2016]
Year Published: 2016
Description: 213 p.
Language: English
Format: Book

ISBN/STANDARD NUMBER
9780063052505
9780062409201
0062409204

SUBJECTS
Voyages and travels -- Fiction.
Widowers -- Fiction.
Orphans -- Fiction.
Kiowa Tribe -- Fiction.
United States -- History -- 19th century -- Fiction.
Historical fiction.