Press enter after choosing selection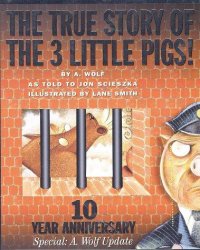 Locations
Call Number: E SCI, Kids Book / Picture Books / Fairy Tales & Folklore / Famous Characters / Three Little Pigs
On Shelf At: Downtown Library, Pittsfield Branch, Traverwood Branch, Westgate Branch

| Location | Call Number | Branch | Item Status |
| --- | --- | --- | --- |
| [dypb ]Downtown Youth Picture Books | E SCI | Downtown Library | On Shelf |
| [dypb ]Downtown Youth Picture Books | E SCI | Downtown Library | On Shelf |
| [dypb ]Downtown Youth Picture Books | E SCI | Downtown Library | On Shelf |
| [dypb ]Downtown Youth Picture Books | E SCI | Downtown Library | On Shelf |
| [dypb ]Downtown Youth Picture Books | E SCI | Downtown Library | On Shelf |
| [dypb ]Downtown Youth Picture Books | E SCI | Downtown Library | On Shelf |
| [dypb ]Downtown Youth Picture Books | E SCI | Downtown Library | Due 03-23-2018 |
| [dypb ]Downtown Youth Picture Books | E SCI | Downtown Library | Due 05-10-2007 |
| [dypb ]Downtown Youth Picture Books | E SCI | Downtown Library | Due 08-13-2016 |
| [dypb ]Downtown Youth Picture Books | E SCI | Downtown Library | Due 10-08-2008 |
| [dypb ]Downtown Youth Picture Books | E SCI | Downtown Library | Due 03-15-2018 |
| Pittsfield Youth Picture Books | E SCI | Pittsfield Branch | On Shelf |
| Pittsfield Youth Picture Books | E SCI | Pittsfield Branch | On Shelf |
| Pittsfield Youth Picture Books | E SCI | Pittsfield Branch | Due 07-05-2007 |
| Traverwood Youth Picture Books | E SCI | Traverwood Branch | On Shelf |
| Westgate Kids Books | Kids Book / Picture Books / Fairy Tales & Folklore / Famous Characters / Three Little Pigs | Westgate Branch | On Shelf |
| Westgate Kids Books | Kids Book / Picture Books / Fairy Tales & Folklore / Famous Characters / Three Little Pigs | Westgate Branch | In transit |
| Westgate Kids Books | Kids Book / Picture Books / Fairy Tales & Folklore / Famous Characters / Three Little Pigs | Westgate Branch | Due 03-21-2018 |
| Westgate Kids Books | Kids Book / Picture Books / Fairy Tales & Folklore / Famous Characters / Three Little Pigs | Westgate Branch | Due 03-19-2018 |
| Westgate Kids Books | Kids Book / Picture Books / Fairy Tales & Folklore / Famous Characters / Three Little Pigs | Westgate Branch | Due 03-22-2018 |
| Malletts Youth Picture Books | E SCI | Malletts Creek Branch | Due 03-20-2018 |
| Malletts Youth Picture Books | E SCI | Malletts Creek Branch | Due 03-17-2018 |
| Westgate Youth Picture Books | E SCI | Westgate Branch | Due 02-28-2007 |
"10 year anniversary - special: A. Wolf update."-Cover.
The wolf gives his own outlandish version of what really happened when he tangled with the three little pigs.

REVIEWS & SUMMARIES
School Library Journal Review
Summary / Annotation
Fiction Profile
Author Notes
Booklist Review
Publishers Weekly Review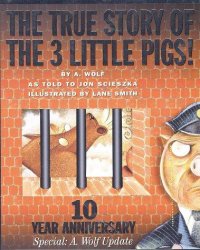 PUBLISHED
New York : Viking Kestrel, 1989.
Year Published: 1989
Description: [28] p. : ill. ; 28 cm.
Language: English
Format: Book

ISBN/STANDARD NUMBER
0670888443
0670827592

ADDITIONAL CREDITS
Smith, Lane.
Wolf, A.

SUBJECTS
Wolves -- Fiction.
Swine -- Fiction.