Press enter after choosing selection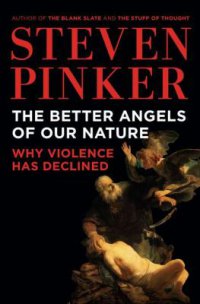 Location

& Checkout Length

Call Number
Checkout Length
Item Status
Downtown 2nd Floor
4-week checkout
303.609 Pi
4-week checkout
Due 04-15-2023
Downtown 2nd Floor
4-week checkout
303.609 Pi
4-week checkout
Due 03-26-2023
Malletts Adult Books
4-week checkout
Adult Book / Nonfiction / Social Science / Psychology / Pinker, Steven
4-week checkout
Due 03-23-2023
Pittsfield Adult Books
4-week checkout
Adult Book / Nonfiction / Social Science / Psychology / Pinker, Steven
4-week checkout
Due 04-14-2023
Traverwood Adult Books
4-week checkout
Adult Book / Nonfiction / Social Science / Psychology / Pinker, Steven
4-week checkout
Due 04-12-2023
A controversial history of violence argues that today's world is the most peaceful time in human existence, drawing on psychological insights into intrinsic values that are causing people to condemn violence as an acceptable measure.

REVIEWS & SUMMARIES
Library Journal Review
CHOICE Review
Booklist Review
Publishers Weekly Review
Summary / Annotation
Fiction Profile
Author Notes
Table of Contents
COMMUNITY REVIEWS
Not persuaded submitted by emaelshaikh on August 18, 2022, 4:52pm It's a nice argument, elegant, but not fully compelling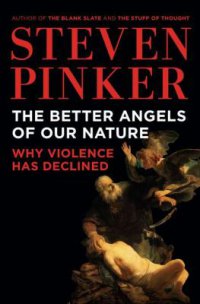 PUBLISHED
New York : Viking, 2011.
Year Published: 2011
Description: xxviii, 802 p. : ill., map ; 25 cm.
Language: English
Format: Book

ISBN/STANDARD NUMBER
9780670022953
0670022950
9780143122012

SUBJECTS
Violence -- Psychological aspects.
Violence -- Social aspects.
Nonviolence -- Psychological aspects.