Press enter after choosing selection
Yoko
Wells, Rosemary. Book - 1998 E WEL 1 On Shelf No requests on this item Community Rating: 4.4 out of 5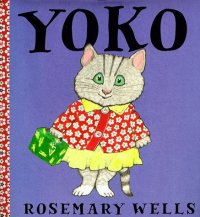 Locations
Call Number: E WEL
On Shelf At: Downtown Library

| Location | Call Number | Branch | Item Status |
| --- | --- | --- | --- |
| Downtown Youth Picture Books | E WEL | Downtown Library | On Shelf |
| Downtown Youth Picture Books | E WEL | Downtown Library | Due 11-12-2019 |
Youth level.
When Yoko brings sushi to school for lunch, her classmates make fun of what she eats--until one of them tries it for himself.

COMMUNITY REVIEWS
Yoko submitted by SBNB on August 2, 2015, 2:59pm This is a cute children's book about different cultures in the classroom. We enjoyed reading it.
s ergse submitted by yongmeiqin on July 18, 2019, 9:40pm rgh esrhg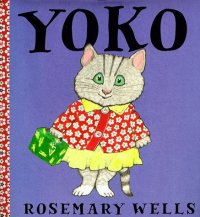 PUBLISHED
New York : Hyperion Books for Children, c1998.
Year Published: 1998
Description: 1 v. (unpaged) : col. ill. ; 24 cm.
Language: English
Format: Book

READING LEVEL
Lexile: 350

ISBN/STANDARD NUMBER
0786803959 (trade) :
0786823453 (lib. ed.)

SUBJECTS
Food -- Fiction.
Sushi -- Fiction.
Schools -- Fiction.
Cats -- Fiction.