Press enter after choosing selection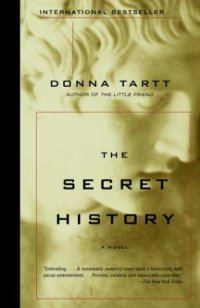 | Location | Call Number | Branch | Item Status |
| --- | --- | --- | --- |
| Downtown 2nd Floor | Tartt, Donna | Downtown Library | Due 11-02-2021 |
| Downtown 2nd Floor | Tartt, Donna | Downtown Library | Due 09-10-2021 |
| Pittsfield Adult Books | Adult Book / Fiction / General / Tartt, Donna | Pittsfield Branch | Due 11-02-2021 |
| Westgate Adult Books | Tartt, Donna | Westgate Branch | Due 10-19-2021 |
REVIEWS & SUMMARIES
Library Journal Review
Booklist Review
Publishers Weekly Review
Summary / Annotation
Fiction Profile
Author Notes
COMMUNITY REVIEWS
fantastic! submitted by krayla on February 5, 2013, 7:57am This is one of the best books I've read in a long time. Donna Tartt's writing style is creative and descriptive, taking you to another world entirely. I'm surprised this book is not on more high school and college reading lists for the quality of her writing. The plot focuses on a group of college students who become obsessed with ancient Greece and its ways of life, sometimes to the point of danger. I liked this book because one climax of the book is told right away at the beginning, and then relates how the plot got to that point. However, this is not to say that the plot ends halfway through the book; the entire story is gripping and I couldn't put it down. I found myself relating to some of the characters, regardless of whether or not I wanted to!
Thrilling! submitted by kcarucci on August 16, 2015, 9:50pm Easily the best book I have read all year. Donna Tartt reels you in by telling you on page one that this group of students murdered their friend Bunny. Therefore, with the plot already told, the story explores the psyches of the characters. Do not be mistaken, this is not mere character development. The growing tension throughout the book is palpable. Focusing on an elite group of college students studying the Greek language, Tartt captivates you. Watch how obsession undoes a small group of friends. Fans of A Separate Peace will love this book!
Intellectual submitted by kferguson on July 21, 2019, 6:14pm I liked Little Friend by Tartt. This is equally well written, but too cerebral and about intellectuals for my taste.
Okay submitted by kelleyc on June 26, 2020, 12:45pm Honestly not my favorite Tartt. I enjoyed it, but it is very cerebral, not quite as gripping as her others.
Excellent writing submitted by teri on August 18, 2020, 1:02pm Complex people, complex plot. A great book to settle in with for a serious, compelling read.
If you're a fan of Tana French ( who is a great fan of Tartt) you may like this. Donna Tartt's influence is noticeable in French's recent book "The Witch Elm".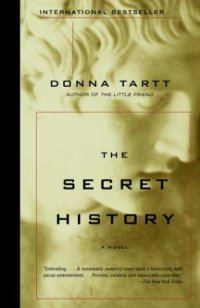 PUBLISHED
New York : Knopf, 1992.
Year Published: 1992
Description: 523 p. ; 25 cm.
Language: English
Format: Book

ISBN/STANDARD NUMBER
9781400031702

SUBJECTS
College students -- Fiction.
Murder -- Fiction.