Press enter after choosing selection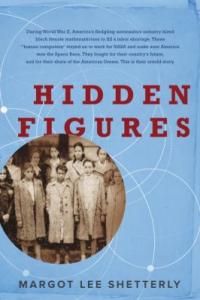 Locations
Call Number: 510.925 Le, Black Studies 510.925 Le, Adult Book / Nonfiction / History / United States / General / Shetterly, Margot Lee
On Shelf At: Downtown Library, Malletts Creek Branch

| Location | Call Number | Branch | Item Status |
| --- | --- | --- | --- |
| Downtown 2nd Floor | 510.925 Le | Downtown Library | On Shelf |
| Downtown 2nd Floor | 510.925 Le | Downtown Library | On Shelf |
| Downtown 2nd Floor | 510.925 Le | Downtown Library | On Shelf |
| Downtown 2nd Floor | 510.925 Le | Downtown Library | On Shelf |
| Downtown 2nd Floor | 510.925 Le | Downtown Library | On Shelf |
| Downtown 2nd Floor | 510.925 Le | Downtown Library | Due 05-14-2021 |
| Downtown 2nd Floor | 510.925 Le | Downtown Library | Due 05-18-2021 |
| Downtown 2nd Floor | 510.925 Le | Downtown Library | Due 06-03-2021 |
| Downtown 2nd Floor | 510.925 Le | Downtown Library | Due 05-05-2021 |
| Downtown 2nd Floor | Black Studies 510.925 Le | Downtown Library | On Shelf |
| Downtown 2nd Floor | Black Studies 510.925 Le | Downtown Library | On Shelf |
| Malletts Adult Books | Adult Book / Nonfiction / History / United States / General / Shetterly, Margot Lee | Malletts Creek Branch | On Shelf |
| Malletts Adult Books | Adult Book / Nonfiction / History / United States / General / Shetterly, Margot Lee | Malletts Creek Branch | Due 05-04-2021 |
| Pittsfield Adult Books | Adult Book / Nonfiction / History / United States / General / Shetterly, Margot Lee | Pittsfield Branch | Due 04-07-2021 |
| Pittsfield Adult Books | Adult Book / Nonfiction / History / United States / General / Shetterly, Margot Lee | Pittsfield Branch | Due 05-09-2021 |
| Traverwood Adult Books | Adult Book / Nonfiction / History / United States / General / Shetterly, Margot Lee | Traverwood Branch | Due 05-06-2021 |
| Westgate Adult Books | Adult Book / Nonfiction / History / United States / General / Shetterly, Margot Lee | Westgate Branch | Due 05-29-2021 |
| Westgate Adult Books | Adult Book / Nonfiction / History / United States / General / Shetterly, Margot Lee | Westgate Branch | Due 05-22-2021 |
Before John Glenn orbited the earth or Neil Armstrong walked on the moon, a group of dedicated female mathematicians known as "human computers" used pencils, slide rules and adding machines to calculate the numbers that would launch rockets, and astronauts, into space. Among these problem-solvers were a group of exceptionally talented African American women, some of the brightest minds of their generation. Originally relegated to teaching math in the South's segregated public schools, they were called into service during the labor shortages of World War II, when America's aeronautics industry was in dire need of anyone who had the right stuff. Suddenly, these overlooked math whizzes had a shot at jobs worthy of their skills, and they answered Uncle Sam's call, moving to Hampton Virginia and the fascinating, high-energy world of the Langley Memorial Aeronautical Laboratory. Even as Virginia's Jim Crow laws required them to be segregated from their white counterparts, the women of Langley's all-black "West Computing" group helped America achieve one of the things it desired most: a decisive victory over the Soviet Union in the Cold War, and complete domination of the heavens."-- adapted from publisher website.

REVIEWS & SUMMARIES
Library Journal Review
School Library Journal Review
CHOICE Review
Booklist Review
Publishers Weekly Review
Summary / Annotation
Table of Contents
Fiction Profile
Author Notes
COMMUNITY REVIEWS
Good Read :) submitted by brielle on June 24, 2017, 10:52am After watching the movie based on this book when it came out, I was determined to learn more about the incredible women mathematicians and engineers.

While I don't frequently read non-fiction, I got through this book quickly (partially because of an impending due date, but who's keeping track). Shetterly balanced focusing on specific women's stories and national events to flesh out the stories' context.

Differences between the book and the movie exist, but I enjoyed and would recommend both!
Interesting submitted by pk on August 27, 2017, 6:00pm So interesting in so many ways - history of African Americans, history of education in America, history of women's employment, history of our air and space programs - it's all there! These women did an amazing job in a time when women, especially black women, had few options for employment. I have not seen the movie, but the book is worth checking out.
Great read! submitted by Xris on August 31, 2017, 7:59pm Having seen the movie, it was easier to keep the women's names straight when reading the book. So many amazing, talented, intelligent, persevering women! Glad to learn more about them!
Great submitted by betsywil on June 18, 2018, 10:28pm This book tells a great, true story of some incredible Black women.

The movie is good too - but the book tells more women's stories, with greater historical accuracy.
Both are well worth your time.
Way better than the movie submitted by adj737 on July 7, 2018, 11:10pm Great detailed, yet entertaining history. Movie didn't go nearly as deep
Way more cultural context than the movie... worth the read! submitted by sueij on July 20, 2018, 11:55pm In a rare twist of events, I saw the movie before I read the book, and they feel like two entirely different stories. Almost *nothing* that happened in the movie (with the single exception of John Glenn saying that he wanted "the girl" to double check the flight numbers) was recorded as happening in _Hidden Figures_, though much of what was depicted in the movie demonstrated truths that were evident time and time and time again through the real lives of the women who worked at NACA/ NASA.

The beauty of _Hidden Figures_ is not only the brilliant research, weaving in many women's personal and professional journeys, but also the masterful way Shetterly chronicles the US vs Russia space race, NACA/ NASA (and its struggles to deal with race over time), and the state of Virginia and its centuries-long race history. Did you know that Virginia was so dedicated to segregated schooling that Prince Edward County shut down all public education rather than integrate? For five years, vouchers funded private White-only schools, leaving Black children without a school system. I thought Shetterly brought to life the whole picture of the lives, communities, and environment of some of NASA's Black women in a brilliant way.

On the downside, the book was definitely heavy on math and science, which will not appeal to some readers. Also, the focus women are not particularly well defined one from the other, and so there are moments when their stories stay distinct, but also moments when I could not keep track of who was who.

Still, _Hidden Figures_ was a strong and powerful book that added much to my knowledge of America's history of math, science, women, and race. I consider it a must-read, and beyond watching the movie, since the movie missed MOST of the cultural context that was the focus of the book beyond the Hollywood-enhanced scenes invented for the big screen.
Good submitted by Kanchan21 on July 24, 2018, 6:23pm Better than movie!
Hidden Figures submitted by leighsprauer on August 27, 2018, 1:57pm I love this book. The story itself is amazing - the struggles and ultimate triumphs of the 'unknown' African-American women mathematicians, engineers and scientists who helped win WWII and usher in the space age - but more than that, Shetterly is simply a fantastic writer. It's hard to find a writer of non-fiction who is also just a plain good writer: clear, organized, fluid. I would rank Shetterly up there with Laura Hillenbrand; they could write a book about bricks and I would still read it because they would make it fascinating.
The book and the movie are a rare case of separate but equal: the movie makes these women's stories accessible and allows them to be seen as the American heroes that they are. After seeing the movie, I was inspired, but not necessarily because they were women or African-American, but because they truly excelled at their work. The book also conveys this sense, but provides much more detail and, more importantly, context, by placing the women's achievements within the broader scope of world history, American history, and African-American history.
These ladies were amazing. submitted by tbbrown76 on July 25, 2019, 10:35pm They were so smart and refused to stay in the background. Recommended.
TB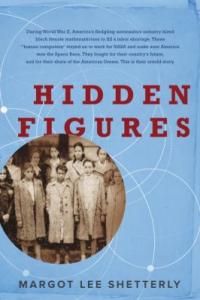 PUBLISHED
New York, New York : William Morrow, 2016.
Year Published: 2016
Description: 346 p.
Language: English
Format: Book

ISBN/STANDARD NUMBER
9780062363596
006236359X
9780062363602

SUBJECTS
United States. -- National Aeronautics and Space Administration -- Officials and employees -- Biography.
Women mathematicians -- United States -- Biography.
African American women -- Biography.
African American mathematicians -- Biography.
Space race.