Press enter after choosing selection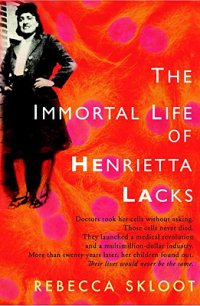 Locations
Call Number: 616.027 Sk, Adult Book / Nonfiction / Biography / General / Lacks, Henrietta, Black Studies 616.027 Sk
On Shelf At: Downtown Library, Malletts Creek Branch

| Location | Call Number | Branch | Item Status |
| --- | --- | --- | --- |
| Downtown 2nd Floor | 616.027 Sk | Downtown Library | On Shelf |
| Downtown 2nd Floor | 616.027 Sk | Downtown Library | Due 07-17-2019 |
| Downtown 2nd Floor | 616.027 Sk | Downtown Library | Due 07-15-2019 |
| Downtown 2nd Floor | 616.027 Sk | Downtown Library | Due 07-05-2019 |
| Downtown 2nd Floor | 616.027 Sk | Downtown Library | Due 07-11-2019 |
| Malletts Adult Books | Adult Book / Nonfiction / Biography / General / Lacks, Henrietta | Malletts Creek Branch | On Shelf |
| Pittsfield Adult | 616.027 Sk | Pittsfield Branch | In transit |
| Traverwood Adult | 616.027 Sk | Traverwood Branch | On Hold Shelf |
| Traverwood Adult | 616.027 Sk | Traverwood Branch | Due 06-25-2019 |
| Downtown 2nd Floor | Black Studies 616.027 Sk | Downtown Library | Due 07-14-2019 |
| Traverwood Adult | Express Shelf 616.027 Sk | Traverwood Branch | Due 07-02-2019 |
| Westgate Adult Books | Adult Book / Nonfiction / Biography / General / Lacks, Henrietta | Westgate Branch | Due 06-28-2019 |
| Westgate Adult Books | Adult Book / Nonfiction / Biography / General / Lacks, Henrietta | Westgate Branch | Due 06-29-2019 |
| Westgate Adult Books | Adult Book / Nonfiction / Biography / General / Lacks, Henrietta | Westgate Branch | Due 07-13-2019 |
REVIEWS & SUMMARIES
Library Journal Review
Booklist Review
Publishers Weekly Review
Summary / Annotation
Fiction Profile
Author Notes
Table of Contents
COMMUNITY REVIEWS
Great stories! submitted by ingahuff on February 8, 2011, 7:51pm This is a could not put down book. I loved the stories that are told in this story about the Hela cell line. You'll learn about where they came from, the family behind them, as well as the science advances that has come from them. Plus here is a link to read about how the profits from the book are benefiting Henrietta Lacks family. http://www.nytimes.com/2011/02/05/books/05lacks.html
Brilliant book submitted by marielle on June 23, 2011, 10:29pm I remember vividly sitting in my freshman high school biology class and learning about Hela cells for the first time. I was struck by the story; how one woman's tragic death changed the face of science, and how we knew so little about her. That was in 1999. Now Skloot has published this book, and that's changed- at least a little- and for that I'm grateful.

As for the book itself, it does both Henrietta Lacks and the science behind her cells justice. The book is the perfect blend of human story-telling and science, of empathy and fact.
good submitted by joiemma on July 7, 2011, 3:19pm good
LOVED this book!! submitted by paully37 on August 4, 2011, 5:40pm This book is WONDERFUL! The author melds history, anthropology, science and story telling so perfectly. I learned from and totally enjoyed this book.
Fabulous! submitted by fizzleskittle on June 24, 2012, 5:44pm This is so well written! Not my usual genre choice, but I couldn't put it down!
Great! Love this!!! VERY NICE! submitted by BelalGazali on June 27, 2012, 5:35pm Great! Love this!!! VERY NICE!
Great book submitted by ashflowtuff on June 28, 2012, 12:39pm Everyone should read this book. It tackles the really complicated ethics of medical research, as well as tells the very personal story of Henrietta Lacks and her family. Great stuff.
eye opener submitted by unknown on July 5, 2012, 10:46pm This book will open your eyes to the ruthlessness of research
Great submitted by HY Qiu on July 23, 2012, 1:47pm Great
Intriguing submitted by andy101 on August 7, 2012, 3:38pm This book was unbelievable and very well-written. Rebecca Skloot did a great job in putting together all of the different aspects of this remarkable story, from the science behind the HeLa cells to the history of the Lacks family. This book can appeal to almost anyone because it will almost immediately grab the attention of such a diverse array of interests; it can fascinate a science lover, it can draw in someone who is interested in race relations, etc. Once I got started, I couldn't stop reading. It seemed as if something new and exciting was happening in the story with every turn of the page, and that's because there was.

I would strongly recommend this book for anyone with an appreciation for science and for the drama of the human experience. However, I don't think that this book would be best for kids under 13, just because the book deals with some pretty mature topics as well as some difficult medical and scientific topics (and besides, it's at a high school reading level).
Highly recommended submitted by sueij on August 14, 2013, 8:36pm What a fascinating scientific and cultural and societal story! Medical protocols were a different world when the HeLa cells were taken from Henrietta Lacks, and much has changed. Race played a huge and complicating role in what happened to her and her family in the years following, but the scientific and medical progress is incontrovertible.

The author does an amazing job blending science and human interest stories into a readable story that will pull you in thoroughly. Highly, highly recommended.
Interesting Read submitted by SolaireFQ on July 19, 2016, 7:24pm This book is worth a read for the ethics in science issues that it brings up. However I did not find it well written.
Henrietta Lacks submitted by mrondo on June 17, 2017, 10:13pm I don't often read nonfiction, but I am so glad I read this book!
It is a captivating, though also tragic, story. Rebecca Skloot's writing is wonderful and addicting.
This book raises interesting questions about ethics and ownership in scientific research.
Fascinating submitted by krathje on August 19, 2017, 9:59am This book is fascinating. If you are interested in biology, race, civil rights, history, science, disease, or just humanity, give it a shot.
Phenomenal submitted by jbranski on June 16, 2018, 10:29pm This book is amazing. Truly a fascinating look at the most biologically significant strain of cells in history and the life of the woman they were taken from. This is a story from another era of medical history - before informed consent and patient privacy laws. And an informative story of how medical care intersects with issues of race, class, and who has a right to benefit from human subjects research.
The Immortal Life of Henrietta Lacks submitted by leighsprauer on November 19, 2018, 4:38pm The Immortal Life of Henrietta Lacks is the story of the woman whose cervical cancer cells became the first "immortal" line, kept alive for decades and immeasurably important to medical and scientific research ever since her premature death. The irony is that Lacks herself was all but lost to history; Skloot does a tremendous job in researching and presenting all the information she can about Lacks, a poor, uneducated, African American woman who unknowingly bequeathed humanity with her invaluable cells. Skloot spent years researching and interviewing members of Lacks' family, as well as members of the scientific community who were involved in what became known as the HeLa cell line. She also touches on the broader historical and social issues of informed consent (especially as it relates to African Americans) and of legal ownership of our tissues and DNA.
I only gave the book 3 stars because I think Skloot lingers a bit too much on the lives of Lacks' children. Although they are of course an important source, and although their relationship with their mother's legacy is a primary part of the story, I think a lot of detail could have been edited out without losing the key parts of the story. Skloot seems to be attempting a quasi-biography of Lacks' daughter, in particular. Unfortunately, she strays too far from the central story of Lacks' life and legacy.
Despite this shortcoming, I would highly recommend this book, both because of its importance in American history and because it is simply a fascinating story.
sucks submitted by gogo on June 17, 2019, 5:57pm suck1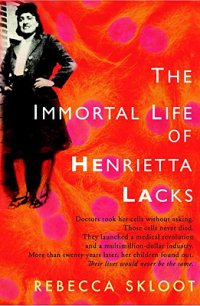 PUBLISHED
New York : Crown Publishers, c2010.
Year Published: 2010
Description: 369 p.
Language: English
Format: Book

ISBN/STANDARD NUMBER
9780804190107
9781400052172
1400052173

SUBJECTS
Lacks, Henrietta, -- 1920-1951 -- Health.
Cancer -- Patients -- Virginia -- Biography.
African American women -- History.
Human experimentation in medicine -- United States -- History.
HeLa cells.
Cancer -- Research.
Cell culture.
Medical ethics.