Press enter after choosing selection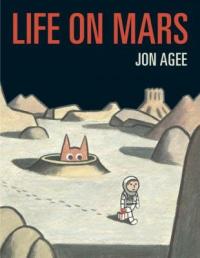 Locations
Call Number: E AGE, Kids Book / Picture Books / Space / Agee, Jon
On Shelf At: Downtown Library

Location

& Checkout Length

Call Number
Checkout Length
Item Status
Downtown Kids Books
4-week checkout
E AGE
4-week checkout
On Shelf
Pittsfield Kids Books
4-week checkout
Kids Book / Picture Books / Space / Agee, Jon
4-week checkout
Due 10-24-2022
Traverwood Kids Books
4-week checkout
Kids Book / Picture Books / Space / Agee, Jon
4-week checkout
Due 11-02-2022
"A young astronaut is trying to find life on Mars, but he's made a very big oversight"-- Provided by publisher.

REVIEWS & SUMMARIES
School Library Journal Review
Booklist Review
Publishers Weekly Review
Summary / Annotation
Fiction Profile
Author Notes
COMMUNITY REVIEWS
Good submitted by Kanchan21 on July 24, 2018, 6:19pm My son who recently started showing interest in planets loved it!
Fun, Simple Story and Illustrations submitted by kirterry on July 5, 2021, 9:34pm We enjoy reading Jon Agee picture books because they are short on text but long on humor.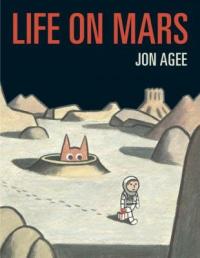 PUBLISHED
New York, NY : Dial Books for Young Readers, [2017]
Year Published: 2017
Description: 1 v. (unpaged)
Language: English
Format: Book

ISBN/STANDARD NUMBER
9780399538520
0399538526

SUBJECTS
Astronauts -- Fiction.
Life on other planets -- Fiction.
Mars (Planet) -- Fiction.