Press enter after choosing selection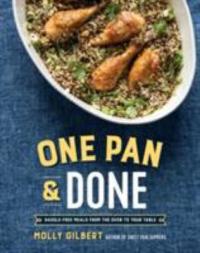 Locations
Call Number: Adult Book / Nonfiction / Cooking / General / Gilbert, Molly, 641.71 Gi
On Shelf At: Malletts Creek Branch, Pittsfield Branch

Location

& Checkout Length

Call Number
Checkout Length
Item Status
Malletts Adult Books
4-week checkout
Adult Book / Nonfiction / Cooking / General / Gilbert, Molly
4-week checkout
On Shelf
Pittsfield Adult Books
4-week checkout
Adult Book / Nonfiction / Cooking / General / Gilbert, Molly
4-week checkout
On Shelf
Downtown 2nd Floor
4-week checkout
641.71 Gi
4-week checkout
Due 12-13-2022
Westgate Adult Books
4-week checkout
Adult Book / Nonfiction / Cooking / General / Gilbert, Molly
4-week checkout
Due 12-26-2022
Includes index.
Breakfast & brunch -- Starters, snacks & sides -- Veggie mains -- Poultry -- Fish -- Meat -- Sweets.
"In One Pan & Done, Molly Gilbert shows you how to use your oven to your advantage, letting it do most of the work to turn out juicy, crispy roasts, succulent vegetables, rich stews, flaky fish, and, of course, sweet treats. Think of it as fast slow-cooking, but with the benefits of baking, roasting, and broiling for concentrated, intense flavor every time. The best part is that with Molly's simple, hands-off recipes, you'll have time to savor your meal and enjoy your company. Whether you're an over-scheduled parent, a busy young professional, or even an accomplished cook, you deserve food that's big on flavor, but simple on steps. With Molly's recipes, you get in the kitchen, and you get out. Kick the oven door shut as you walk away--your meal is One Pan & Done,"--Amazon.com.

REVIEWS & SUMMARIES
Publishers Weekly Review
Summary / Annotation
Author Notes
COMMUNITY REVIEWS
No community reviews. Write one below!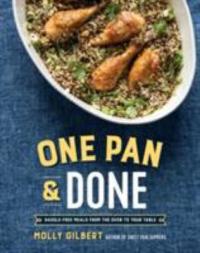 PUBLISHED
New York : Clarkson Potter/Publishers, [2017]
Year Published: 2017
Description: 256 pages : color illustrations ; 23 cm.
Language: English
Format: Book

ISBN/STANDARD NUMBER
9781101906453
1101906456

SUBJECTS
Roasting (Cooking).
Broiling.
Baking.
One-dish meals.
Cookbooks.
Cookbooks.