Press enter after choosing selection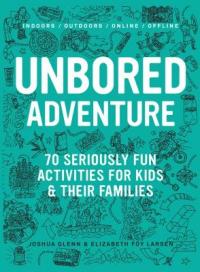 Locations
Call Number: Kids Book / Nonfiction / Sports & Games / Card & Board Games, Y 790 Gl
On Shelf At: Pittsfield Branch, Traverwood Branch

| Location | Call Number | Branch | Item Status |
| --- | --- | --- | --- |
| Pittsfield Kids Books | Kids Book / Nonfiction / Sports & Games / Card & Board Games | Pittsfield Branch | On Shelf |
| Traverwood Kids Books | Kids Book / Nonfiction / Sports & Games / Card & Board Games | Traverwood Branch | On Shelf |
| Downtown Kids Books | Y 790 Gl | Downtown Library | Due 08-03-2020 |
| Downtown Kids Books | Y 790 Gl | Downtown Library | Due 07-20-2020 |
| Malletts Kids Books | Kids Book / Nonfiction / Sports & Games / Card & Board Games | Malletts Creek Branch | Due 07-27-2020 |
| Westgate Kids Books | Kids Book / Nonfiction / Sports & Games / Card & Board Games | Westgate Branch | Due 08-07-2020 |
Adventure-ize -- Adventures close to home -- Urban adventure -- Nature adventure.
"Combining old-fashioned favorites with today's high-tech possibilities, the book offers a goldmine of creative, constructive activities that kids can do on their own or with their families. From camouflage techniques, survival skills, and cloudspotting advice to instructions on how to build an upcycled kite or raft, to using apps to navigate and explore, it's all here--along with comics that dive into the secret history of everything from bicycling to women explorers. A fun corrective to our over-anxious parenting culture, UNBORED Adventure encourages kids to become more independent and resilient, to solve problems and ask questions, and to engage with both their community and natural environment."-- Amazon.com.

REVIEWS & SUMMARIES
Summary / Annotation
Author Notes
COMMUNITY REVIEWS
Seriously fun submitted by sara on July 17, 2017, 8:58am There are activities and ideas for all ages. don't skip the resources section in the back- lots of apps that are both useful and fun.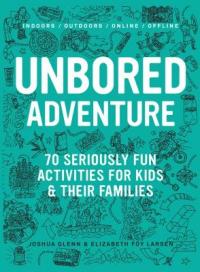 PUBLISHED
New York : Bloomsbury, 2015.
Year Published: 2015
Description: 175 pages : color illustrations ; 22 cm.
Language: English
Format: Book

ISBN/STANDARD NUMBER
9781632860965
1632860961

ADDITIONAL CREDITS
Larsen, Elizabeth Foy,
Leone, Tony,
Kasunick, Heather,
Reusch, Mister,

SUBJECTS
Amusements.
Games.
Handicraft.