Press enter after choosing selection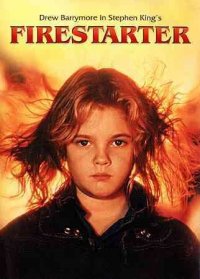 Locations
Call Number: DVD Science-Fiction Firestarter
On Shelf At: Malletts Creek Branch, Traverwood Branch

Location

& Checkout Length

Call Number
Checkout Length
Item Status
Malletts Adult A/V
1-week checkout
DVD Science-Fiction Firestarter
1-week checkout
On Shelf
Traverwood Adult A/V
1-week checkout
DVD Science-Fiction Firestarter
1-week checkout
On Shelf
Based on the novel by Stephen King.
Orginally released as a motion picture in 1984.
David Keith, Drew Barrymore, Freddie Jones, Heather Locklear, Martin Sheen, George C. Scott.
Charlene 'Charlie' McGee is a child who has the amazing ability to start fires with just a glance. Can her psychic power and the love of her father save her from the threatening government agency, 'The Shop,' that wants her destroyed?
DVD (DVD-9); widescreen (2.35:1) presentation; Dolby Digital 2.0 mono.
Contents: Firestarter.

COMMUNITY REVIEWS
Notsohot submitted by markwells on August 13, 2017, 12:13pm Most Stephen King Novels fail to translate well to movie form. This one is kind of fun if you don't take it too seriously. Grade B-.
interesting! submitted by manz on July 7, 2019, 4:46pm I recently watched this again and it was so cheesy and fun. You can see where Stranger Things comes from.
Drew Barrymore a child star submitted by mandevil on May 30, 2021, 1:17pm George c Scott plays a perfect villian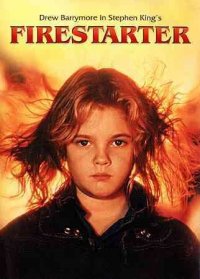 PUBLISHED
[Universal City, CA] : [Universal Studios], [2014]
Year Published: 2014
Description: 1 videodisc (115 min.) : sound, color ; 4 3/4 in.
Language: English
Format: DVD

ADDITIONAL CREDITS
Mann, Stanley, 1928-
Capra, Frank, Jr., 1934-2007,
Lester, Mark L. 1946-
Keith, David, 1954-
Barrymore, Drew,
Jones, Freddie, 1927-
Locklear, Heather,
Sheen, Martin,
Scott, George C., 1927-1999,
Rawlins, David,
Ruzzolini, Guiseppe,
King, Stephen, 1947-
Tangerine Dream (Musical group),
Universal Pictures (Firm),
Dino de Laurentiis Corporation,
Universal Studios Home Entertainment (Firm),

SUBJECTS
King, Stephen, -- 1947- -- Film adaptations.
Pyromania -- Drama.
Human experimentation in medicine -- Drama.
Fiction films.
Feature films.
Video recordings for the hearing impaired.