Press enter after choosing selection
Wavedrum Mini.
Tools None on shelf No requests on this item Community Rating: 4.8 out of 5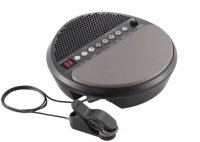 AADL has no copies of this item

CONTENTS
1 Korg Wavedrum Mini
1 sensor clip for turning almost any object into a drum (optional)
6 rechargeable AA batteries (installed)
1 power supply cord (optional)
SPECIFICATIONS
Sounds => 100
Combination Effects => 10
Input => Sensor Clip input
Outputs => phones (Stereo mini), Output (1/4 inch)
Speaker => 10 x 5cm; 1.3 Watt
Sampling frequency => 48 kHz
A/D, D/A conversion => 24-bit
Display => 7-segment LED
Power Supply => AA batteries (x6); AC adapter
Battery Life => 4 hours *when using nickel metal hydride batteries (1900mAh)
Dimensions (W x D x H) => 8.50 x 8.50 x 2.63 inches / 216 x 216 x 67mm
Weight => 2.20 lbs. / 1.0kg (batteries included)

DOCUMENTATION
Download
COMMUNITY REVIEWS
Household favorite submitted by bfields on September 23, 2012, 11:31am Feels more expressive and fun to play than you'd expect from a little electronic drum.

Doesn't annoy the family as much as synthesizers that make noisy hard-to-tune sounds.

Takes about 10 seconds to boot, unfortunately. Once it's running, choosing a sound and playing is easy. Recording loops seems easy enough too. Fooling with the effects looks hard without the manual in hand (though there may be no real reason to do that.)

The clip makes it easy for two people to play at once.
Fun submitted by samanthar on June 18, 2015, 11:22pm The wavedrum is a lot of fun to play, and is easier to get into than it may seem. There is a wide range of sounds to test out.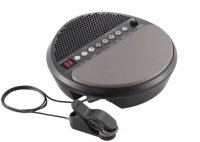 PUBLISHED
Year Published:
Language: English
Format: Tools

ADDITIONAL CREDITS
Korg