Press enter after choosing selection
Madam Secretary. Season 1
DVD - 2015 DVD TV Madam Season 1 3 On Shelf No requests on this item Community Rating: 4.5 out of 5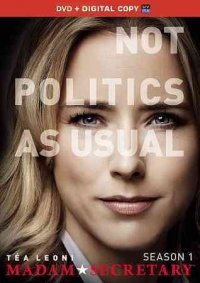 Locations
Call Number: DVD TV Madam Season 1
On Shelf At: Downtown Library, Westgate Branch

Location

& Checkout Length

Call Number
Checkout Length
Item Status
Downtown 1st Floor
3-week checkout
DVD TV Madam Season 1
3-week checkout
On Shelf
Downtown 1st Floor
3-week checkout
DVD TV Madam Season 1
3-week checkout
On Shelf
Westgate Adult A/V
3-week checkout
DVD TV Madam Season 1
3-week checkout
On Shelf
Traverwood Adult A/V
3-week checkout
DVD TV Madam Season 1
3-week checkout
Due 02-20-2023
Originally broadcast as single episodes of a television program on the CBS Network in 2014.
Widescreen.
Special features: Deleted scenes; premiere episode of "The affair"; featurettes; photo gallery; launch promos; audio commentaries.
Tea Leoni, Tim Daly, Bebe Neuwirth.
In the first season of the gripping political thriller Madam Secretary, Dr. Elizabeth McCord navigates the maze of politics to protect America and affect global issues. When the current Secretary of State is killed in a mysterious airplane accident, the White House turns to Elizabeth to take over the job. As a former CIA analyst, she understands the risks of the world. However, she's far less prepared for the treachery of politics.
DVD, widescreen; 5.1 Dolby digital, Dolby digital stereo.

COMMUNITY REVIEWS
No community reviews. Write one below!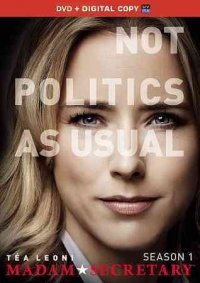 SERIES
Madam secretary (Television program)

LANGUAGE OPTIONS
English dialogue; Portuguese subtitles; subtitled for the deaf and hard of hearing.

PUBLISHED
[New York, NY] : Paramount Home Entertainment, [2015]
Year Published: 2015
Description: 6 videodiscs (961 min.) : sound, color ; 4 3/4 in.
Language: English
Format: DVD

ADDITIONAL CREDITS
Leoni, Téa, 1966-
Daly, Tim, 1956-
Neuwirth, Bebe,
CBS Television Network,
Paramount Home Entertainment (Firm),

SUBJECTS
Women cabinet officers -- Drama.
United States -- Politics and government -- Drama.
Television series.
Political television programs.
Video recordings for the hearing impaired.