Press enter after choosing selection
The Passion of Joan of Arc : La Passion de Jeanne D'arc
DVD - 1999 DVD Silent-Film Passion 2 On Shelf No requests on this item Community Rating: 5 out of 5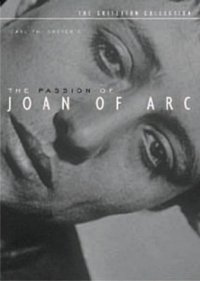 Locations
Call Number: DVD Silent-Film Passion
On Shelf At: Downtown Library, Westgate Branch

Location

& Checkout Length

Call Number
Checkout Length
Item Status
Downtown 1st Floor
1-week checkout
DVD Silent-Film Passion
1-week checkout
On Shelf
Westgate Adult A/V
1-week checkout
DVD Silent-Film Passion
1-week checkout
On Shelf
"The Cinémathèque française presents a film restored in 1985."
Originally released as a silent motion picture in France in 1928.
Optional soundtrack features Richard Einhorn's oratorio "Voices of light" inspired by the silent motion picture and performed by Anonymous 4, Susan Narucki, the Netherlands Radio Choir and the Netherlands Radio Philharmonic.
Special features: an extensive production design archive; Audio essay / Casper Tybjerg, a Dreyer scholar from the University of Copenhagen; a history of Passion's many versions, with clips; audio interview with Falconetti's daughter; an essay by Richard Einhorn on Joan of Arc and Voices of Light; Voices of Light libretto booklet, including the medieval texts used in Einhorn's composition.
Renée Falconetti, Eugène Silvain, André Berley, Maurice Schutz, Antonin Artaud, Gilbert Dalleu, Jean d'Yd, Lois Ravet.
Dramatization of the life of Joan of Arc centering on her trial and execution.
DVD; Dolby digital 5.1; (1.33:1); full screen.
Contents: Voices of light.

REVIEWS & SUMMARIES
Summary / Annotation
COMMUNITY REVIEWS
No community reviews. Write one below!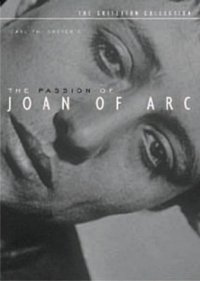 SERIES
Criterion collection
62.
Classic collection.

LANGUAGE OPTIONS
Silent film with French intertitles, optional English subtitles and optional oratorio soundtrack sung in Latin and French.

PUBLISHED
[Irvington, N.Y.] : Criterion Collection, [1999]
Year Published: 1999
Description: 1 videodisc (82 min.) : sd., b&w ; 4 3/4 in. + 1 libretto (25 p. ; 16 cm.)
Format: DVD

ISBN/STANDARD NUMBER
0780022343

ADDITIONAL CREDITS
Dreyer, Carl Theodor, 1889-1968.
Falconetti, Renée, 1892-1946.
Silvain, Eugène-Charles-Joseph, 1851-1930.
Schutz, Maurice.
Artaud, Antonin, 1896-1948.
Dalleu, Gilbert, 1890-1931.
Narucki, Susan.
Falconetti, Hélène, 1915-
Einhorn, Richard, 1952 August 2-
Janus Films.
Gaumont (Firm)
Société générale de films.
Criterion Collection (Firm)
Cinémathèque française.
Anonymous 4 (Musical group)
NOS Omroepkoor.
Radio Filharmonisch Orkest (Nederlandse Omroep Stichting)

SUBJECTS
Joan, -- of Arc, Saint, -- 1412-1431 -- Drama.
Feature films.
Silent films.