Press enter after choosing selection
Amélie : le Fabuleux Destin D'amélie Poulai
DVD - 2002 DVD FLC-FRE Amélie 5 On Shelf 1 request on 6 copies Community Rating: 4.8 out of 5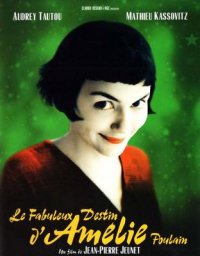 Locations
Call Number: DVD FLC-FRE Amélie
On Shelf At: Downtown Library, Pittsfield Branch, Traverwood Branch, Westgate Branch

| Location | Call Number | Branch | Item Status |
| --- | --- | --- | --- |
| Downtown 1st Floor | DVD FLC-FRE Amélie | Downtown Library | On Shelf |
| Pittsfield Adult A/V | DVD FLC-FRE Amélie | Pittsfield Branch | On Shelf |
| Pittsfield Adult A/V | DVD FLC-FRE Amélie | Pittsfield Branch | On Shelf |
| Traverwood Adult A/V | DVD FLC-FRE Amélie | Traverwood Branch | On Shelf |
| Westgate Adult A/V | DVD FLC-FRE Amélie | Westgate Branch | On Shelf |
| Malletts Adult A/V | DVD FLC-FRE Amélie | Malletts Creek Branch | Due 08-13-2020 |
Videodisc release of the 2001 motion picture.
Special features: The look of Amelie ; Fantasies of Audrey Tautou ; Q&A with director and cast ; auditions ; storyboard comparison ; An intimate chat with director Jean-Pierre Jeunet ; "Home movies" inside the making of Amelie ; TV spots, English and French ; theatrical trailer, U.S. and French ; cast and crew filmographies ; the Amelie scrapbook.
Audrey Tautou, Mathieu Kassovitz, Rufus, Serge Merlin, Jamel Debbouze, Claire Maurier, Clotilde Mollet, Isabelle Nanty.
Amelie is looking for love, and perhaps the meaning of life in general. She grows up in an original, if slightly dysfunctional family. She learns that she must reach out to others to achieve happiness.
DVD; region 1, NTSC; widescreen (2.35:1) presentation, enhanced for 16x9 televisions; Dolby digital 5.1 surround sound.

COMMUNITY REVIEWS
Wonderful submitted by chuntoon on June 24, 2012, 10:40pm This wonderful and whimsical film, follows Amelie Poulain, a young waitress in Montmartre who is just trying to figure out what life is about. She realizes that she gains fulfillment by performing random acts of kindness. Colorful, beautifully filmed and acted.
cute and quirky submitted by jjdijkstra81 on July 13, 2012, 3:28am cute and quirky, not your "average" film, thank God, which is why I thoroughly enjoyed it :)
lovely submitted by jgzhang on July 16, 2012, 1:37pm A quirky, original film starring Audrey Tautou as the kind-hearted dreamer Amelie. The depiction of Parisian life, though idealized, is very charming.
Awesome! submitted by Amber Kinder on June 15, 2013, 11:57am This is one of my favorite movies! I used to watch it all the time to practice my french. It's different and cute and incredibly entertaining.
Amelie submitted by a2sue on July 16, 2013, 6:41am I don't usually enjoy foreign language films, but this one was outstanding! I absolutely adored it.
delightful submitted by sumsaylor on July 15, 2015, 8:30pm A quirky movie with a great soundtrack!
Looking for some happiness? submitted by teri on July 2, 2019, 1:36pm We just watched this again and enjoyed it as much or more than the first time.
It's totally different - eccentric, fun, sweet.
Interesting characters submitted by ccrose on August 21, 2019, 1:15am . Amalie has a propensity for helping something happen for someone who aches to achieve their dreams. Amalie has developed a talent for bringing insight to someone who can't get unstuck from problems they have created. A fairytale, or an alternate universe of possibilities for love. The sets that have just a slightly off-kilter feel, saturated colors, buildings that lean. A beautiful soundtrack of music,too!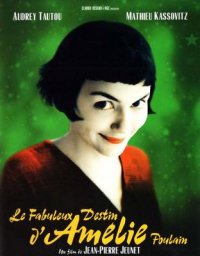 SERIES
Miramax award-winning collection.

PUBLISHED
Burbank, Calif. : Distributed by Buena Vista Home Entertainment, [2002].
Year Published: 2002
Description: 2 videodiscs (122 min.) : sd., col. ; 4 3/4 in.
Format: DVD

ISBN/STANDARD NUMBER
0788836218 :

ADDITIONAL CREDITS
Tautou, Audrey, 1978-
Kassovitz, Mathieu, 1967-
Jeunet, Jean-Pierre, 1955-
Rufus, 1942-
Merlin, Serge.
Debbouze, Jamel, 1975-
Maurier, Claire.
Mollet, Clotilde.
Nanty, Isabelle, 1962-
Delbonnel, Bruno.
Tiersen, Yann.
Miramax Films.

SUBJECTS
Young women -- France -- Drama.
Waitresses -- Paris -- Drama.
Women -- Drama.
Motion pictures, French.
French lanuage materials.
Paris (France) -- Drama.
Feature films.