Press enter after choosing selection
Green Room
DVD - 2016 DVD Horror Green 2 On Shelf No requests on this item Community Rating: 3.4 out of 5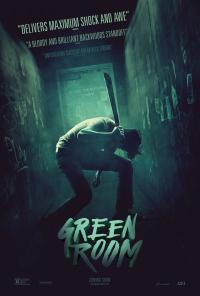 Locations
Call Number: DVD Horror Green
On Shelf At: Malletts Creek Branch, Westgate Branch

Location

& Checkout Length

Call Number
Checkout Length
Item Status
Malletts Adult A/V
1-week checkout
DVD Horror Green
1-week checkout
On Shelf
Westgate Adult A/V
1-week checkout
DVD Horror Green
1-week checkout
On Shelf
Originally produced as a motion picture in 2015.
Widescreen.
Special features: making of Green room; commentary.
Patrick Stewart, Anton Yelchin, Imogen Poots, Alia Shawkat, Joe Cole, Callum Turner.
A young punk band on the road looks to earn enough money to get back home and gets an invitation to play at an isolated backwoods Oregon club. The gig turns sinister when the band accidentally witness a crime and discover that the club is run by neo-Nazis. Now trapped backstage, they must figure a way out or die.
DVD, region 1, widescreen 2.40:1; Dolby digital 5.1.

COMMUNITY REVIEWS
Tense submitted by ferielp on August 24, 2017, 1:54pm Lots of suspense and brutality.
Green Room submitted by lstorc on July 18, 2019, 9:56pm Green Room is full of creativity and unexpected moments. It's a worthy horror film!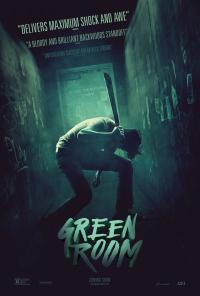 LANGUAGE OPTIONS
English dialogue; Spanish subtitles; English subtitles for the deaf and hard of hearing (SDH)

PUBLISHED
Santa Monica, Calif. : Lionsgate, [2016]
Year Published: 2016
Description: 1 videodisc (approximately 95 min.) : sound, color ; 4 3/4 in.
Language: English
Format: DVD

ADDITIONAL CREDITS
Kopp, Neil, 1979-
Savjani, Anish,
Moyers, Victor,
Saulnier, Jeremy,
Stewart, Patrick, 1940-
Yelchin, Anton,
Poots, Imogen, 1989-
Shawkat, Alia, 1989-
Cole, Joe, 1988-
Turner, Callum, 1990-
Blair, Brooke,
Blair, Will (Composer),
Bloch, Julia (Film editor),
Porter, Sean,
Hammond, Daniel,
Hammond, Gabriel,
Savino, Vincent,
Lions Gate Entertainment (Firm),
A24 Media,
Broad Green Pictures (Firm),
Film Science (Firm),

SUBJECTS
Rock groups -- Drama.
Neo-Nazis -- Drama.
Murder -- Drama.
Feature films.
Thrillers (Motion pictures)
Fiction films.
Video recordings for the hearing impaired.