Press enter after choosing selection
Cowboy Bebop : : the Complete Series
Blu-Ray - 2014 Blu-ray Animation Cowboy 1 On Shelf No requests on this item Community Rating: 4.3 out of 5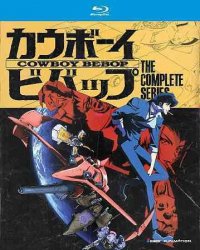 Locations
Call Number: Blu-ray Animation Cowboy
On Shelf At: Downtown Library

| Location | Call Number | Branch | Item Status |
| --- | --- | --- | --- |
| Downtown 1st Floor | Blu-ray Animation Cowboy | Downtown Library | On Shelf |
| Downtown 1st Floor | Blu-ray Animation Cowboy | Downtown Library | Due 07-19-2020 |
Title from container.
Extras: Memo from Bebop: the dub sessions remembered; Dinner aboard the Bebop; Cowboy Bebop session #0; English and Japanese audio commentaries; Interview with Wendee Lee; Interview with Cartoon Network producer Sean Akins; Ein's summer vacation; Textless opening & closing songs; "Tank!" music clips.
The Bebop crew is just trying to make a buck. This motley lot of intergalactic loners teams up to track down fugitives and turn them in for cold hard cash. On their own, any one of them would be likely to get lost in the sprawl of space, but together, they're the most entertaining gang of bounty hunters in the year 2071.
Blu-ray, region A, 1080p High Definition; Dolby TrueHD 5.1; requires Blu-ray player.

COMMUNITY REVIEWS
Absolutely Amazing submitted by LuzrovRulay on June 18, 2016, 12:13pm Cowboy BeBop was one of the first anime I ever saw back when I was still in middle school. It was what brought my father into anime and from the music to the animation to the characters, everything about this series is beautiful. Like most anime, each episode is it's own plot, but they all lead to something bigger and more grand that you find at the end. I can't begin to recommend this series enough, and despite having seen it a few times over, I never get bored and I never stop falling in love with this series over and over again.

Space and sci-fi might not be everyone's jam, but it's one of the series I recommend to anyone starting anime or just looking for a good series to watch. Be sure to give it a shot!
Old submitted by JY 2005 on July 14, 2018, 10:08am Old, but good anime.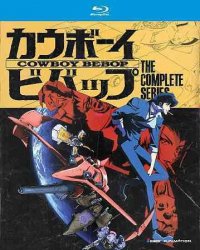 SERIES
Cowboy Bebop (Television program)

PUBLISHED
Flower Mound, TX : FUNimation, 2014.
Year Published: 2014
Description: 4 videodiscs (650 min.) : sound, color ; 4 3/4 in.
Language: English
Format: Blu-Ray

ISBN/STANDARD NUMBER
1421028131
9781421028132

ADDITIONAL CREDITS
Watanabe, Shinichirō, 1965-
Nobumoto, Keiko,
Sunrise, Inc.,
Bandai Bijuaru Kabushiki Gaisha,
Bandai Entertainment, Inc.,
FUNimation Entertainment (Firm),

SUBJECTS
Bounty hunters -- Drama.
Fugitives from justice -- Drama.
Interplanetary voyages -- Drama.
Animated television programs.
Action and adventure television programs.