Press enter after choosing selection
Schitt$ Creek. The Complete 1st Season
DVD - 2015 DVD TV Schitt's Season 1 4 On Shelf No requests on this item Community Rating: 4.3 out of 5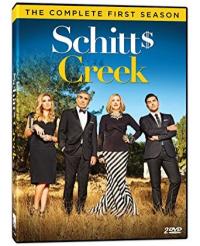 Locations
Call Number: DVD TV Schitt's Season 1
On Shelf At: Downtown Library, Pittsfield Branch, Traverwood Branch, Westgate Branch

Location

& Checkout Length

Call Number
Checkout Length
Item Status
Downtown 1st Floor
1-week checkout
DVD TV Schitt's Season 1
1-week checkout
In transit
Downtown 1st Floor
1-week checkout
DVD TV Schitt's Season 1
1-week checkout
On Shelf
Downtown 1st Floor
1-week checkout
DVD TV Schitt's Season 1
1-week checkout
Due 11-29-2022
Pittsfield Adult A/V
1-week checkout
DVD TV Schitt's Season 1
1-week checkout
On Shelf
Traverwood Adult A/V
1-week checkout
DVD TV Schitt's Season 1
1-week checkout
On Shelf
Westgate Adult A/V
1-week checkout
DVD TV Schitt's Season 1
1-week checkout
On Shelf
Westgate Adult A/V
1-week checkout
DVD TV Schitt's Season 1
1-week checkout
Due 11-29-2022
Bonus: Webisodes ; Deleted scenes ; Bloopers ; Trailers.
Disc 1. Our cup runneth over -- The drip -- Don't worry, it's his sister -- Bad parents -- The cabin -- Wine and roses -- Turkey shoot -- Allez-vous.
Disc 2. Carl's funeral -- Honeymoon -- Little sister -- Surprise party -- Town for sale.
Eugene Levy, Catherine O'Hara, Daniel Levy, Annie Murphy, Jennifer Robertson, Emily Hampshire, Tim Rozon, Sarah Levy, Chris Elliott.
When filthy-rich video store magnate Johnny Rose, his soap star wife Moira and their two kids -- über-hipster son David and socialite daughter Alexis -- suddenly find themselves broke, they are forced to leave their pampered lives to regroup and rebuild their empire from within the rural city limits of their only remaining asset - Schitt's Creek, an armpit of a town they once bought as a joke.
DVD ; Widescreen (16x9, 1.78:1) presentation ; Dolby digital 5.1.

COMMUNITY REVIEWS
Weird, snarky fun submitted by mmckenzie on June 25, 2017, 2:03pm Love it - way over the top! An acquired taste. Worth watching for the crazy, fun wardrobe alone. But has good heart, surprisingly.
meh submitted by manz on June 30, 2017, 8:35pm I couldn't get into this! So many folks were excited about it, thought it was funny.
Love it! submitted by Pooh3238 on June 24, 2019, 9:26pm I have only now started watching this show. At first I thought it was dumb, but then I couldn't stop watching it. So funny, and so random.
Funny and heart warming submitted by dntanzer on August 24, 2019, 11:24pm This is one of my new favorite. It's a quick, fun watch that gets better with each season.
One of the best shows out there! submitted by amk08 on July 14, 2020, 2:25pm The first season can be a bit slow/boring for some people but give its a few episodes and you will see why so many people love and quote it! The characters are lovable and you will laugh every episode!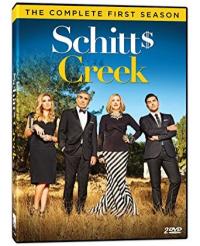 SERIES
Schitt's Creek (Television program)

PUBLISHED
[Toronto] : Entertainment One, [2015]
Year Published: 2015
Description: 2 videodiscs (approximately 326 min.) : sound, color ; 12 cm.
Language: English
Format: DVD

ADDITIONAL CREDITS
Levy, Daniel, 1983-
White, Kevin,
Short, Michael, 1937-
Pozzebon, Chris,
Walsh, Amanda,
Grassi, Michael,
Cicoritti, Gerard, 1956-
Fox, Paul,
Levy, Eugene, 1946-
O'Hara, Catherine,
Murphy, Annie,
Not A Real Company (Firm),
Canadian Broadcasting Corporation,
Entertainment One (Firm : Canada),

SUBJECTS
Bankruptcy -- Drama.
Actors -- Drama.
Television comedies.
Television programs for the hearing impaired.
Television programs for people with visual disabilities.