Press enter after choosing selection
Tampopo
DVD - 2017 DVD FLC-JPN Tampopo 3 On Shelf No requests on this item Community Rating: 4.2 out of 5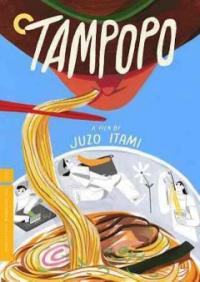 Locations
Call Number: DVD FLC-JPN Tampopo
On Shelf At: Downtown Library, Malletts Creek Branch, Traverwood Branch

| Location | Call Number | Branch | Item Status |
| --- | --- | --- | --- |
| Downtown 1st Floor | DVD FLC-JPN Tampopo | Downtown Library | On Shelf |
| Malletts Adult A/V | DVD FLC-JPN Tampopo | Malletts Creek Branch | On Shelf |
| Traverwood Adult A/V | DVD FLC-JPN Tampopo | Traverwood Branch | On Shelf |
Title from sell sheet.
New 4K digital restoration.
Originally produced as a motion picture in 1985.
Wide screen (1.85:1).
Bonus features: The making of "Tampopo," a ninety-minute documentary from 1986, narrated by director Juso Itami; new interview with actor Nobuko Miyamoto; new interviews with ramen scholar Hiroshi Osaki; food stylist Seiko Ogawa; and American chefts Sam White Rayneil de Guzman, Jerry Jaksich, and Anthony Bourdain; Rubber band pistol, Itami's 1962 debut shrot film; new video essay by Tony Zhou and Taylor Ramos on the film's themes of self-improvement and mastery of a craft; trailer; essay by food and culture writer Willy Blackmore.
Nobuko Miyamoto, Ken Watanabe, Tsutomu Yamazaki.
The tale of an eccentric band of culinary ronin who guide the widow of a noodle shop owner on her quest for the perfect recipe.
DVD.

REVIEWS & SUMMARIES
Library Journal Review
COMMUNITY REVIEWS
Amazing but not for kids submitted by lballard on August 8, 2018, 6:10am This is an absolutely beautiful group of stories, but fair warning, one of the storylines contains sex scenes. Like the rest, it's centered around a love of food, and really interesting and well done, but if you want to show this to younger kids, you might want to have the skip button handy for the mobster and moll scenes.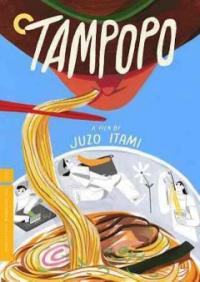 SERIES
Criterion Collection
868.

PUBLISHED
New York : The Criterion Collection, [2017]
Year Published: 2017
Description: 2 videodiscs (114 min.) : sound, color ; 4 3/4 in.
Format: DVD

ISBN/STANDARD NUMBER
9781681432861
1681432862

ADDITIONAL CREDITS
Itami, Jūzō, 1933-1997,
Yamazaki, Tsutomu, 1936-
Miyamoto, Nobuko, 1945-
Watanabe, Ken, 1959-
Criterion Collection (Firm),

SUBJECTS
Restaurant management -- Tokyo -- Drama.
Noodles -- Japan -- Drama.
Feature films.
Comedy films.
Fiction films.