Press enter after choosing selection
Wonder Woman
DVD - 2017 DVD Animation Wonder 5 On Shelf No requests on this item Community Rating: 3.9 out of 5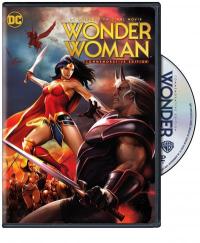 Locations
Call Number: DVD Animation Wonder
On Shelf At: Downtown Library, Malletts Creek Branch, Pittsfield Branch, Traverwood Branch

| Location | Call Number | Branch | Item Status |
| --- | --- | --- | --- |
| Downtown 1st Floor | DVD Animation Wonder | Downtown Library | On Shelf |
| Downtown 1st Floor | DVD Animation Wonder | Downtown Library | On Shelf |
| Malletts Adult A/V | DVD Animation Wonder | Malletts Creek Branch | On Shelf |
| Pittsfield Adult | DVD Animation Wonder | Pittsfield Branch | On Shelf |
| Traverwood Adult | DVD Animation Wonder | Traverwood Branch | On Shelf |
| Westgate Adult A/V | DVD Animation Wonder | Westgate Branch | Due 06-30-2019 |
Wide screen.
All-new special feature: What makes a Wonder Woman ; PLUS Wonder Woman, a subversive dream ; commentary by the film's creative team; a sneak peek at DC universe's next animated movie, "Batman and Harley Quinn".
Keri Russell, Nathan Fillion, Alfred Molina, Rosario Dawson, Oliver Platt, Marg Helgenberger, and Virginia Madsen.
On the mystical island of Themyscira, a proud and fierce warrior race of Amazons have raised a daughter of untold beauty, grace and strength - Princess Diana. When an army fighter pilot, Steve Trevor, crash lands on the island, the rebellious and headstrong Diana defies Amazonian law by accompanying Trevor back to civilization. Meanwhile, Aries has escaped his imprisonment at the hands of the Amazonians and has decided to exact his revenge.
DVD, Dolby digital 5.1, region 1.

COMMUNITY REVIEWS
Not the 2017 movie..... submitted by rickmktg on July 11, 2017, 7:33am It's animated..
Disappointing submitted by RowanEMH on August 1, 2017, 9:30am This version covers some of the same origin material in the live action film, but I found it gratuitously crass. If you're looking for more "girl power," this isn't it.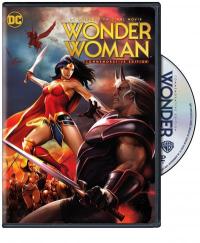 PUBLISHED
New York, NY : DC Comics, [2017]
Year Published: 2017
Description: 1 videodisc (approximately 70 min.) : sound, color ; 4 3/4 in.
Language: English
Format: DVD

ADDITIONAL CREDITS
Montgomery, Lauren,
Timm, Bruce,
Russell, Keri, 1976-
Fillion, Nathan, 1971-
Molina, Alfred, 1953-
Dawson, Rosario,
Platt, Oliver,
Helgenberger, Marg,
Madsen, Virginia, 1961-
DC Comics, Inc.,

SUBJECTS
Video recordings for the hearing impaired.
Amazons -- Drama.
Fighter pilots -- Drama.
Feature films.
Animated films.
Action and adventure films.