Press enter after choosing selection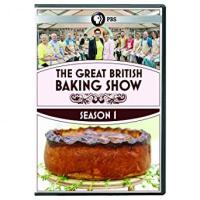 Locations
Call Number: DVD 641.815 Gr, Adult DVD / Nonfiction / Cooking / Great British Baking Show
On Shelf At: Downtown Library, Pittsfield Branch, Westgate Branch

Location

& Checkout Length

Call Number
Checkout Length
Item Status
Downtown 1st Floor
1-week checkout
DVD 641.815 Gr
1-week checkout
On Shelf
Downtown 1st Floor
1-week checkout
DVD 641.815 Gr
1-week checkout
On Shelf
Pittsfield Adult A/V
1-week checkout
Adult DVD / Nonfiction / Cooking / Great British Baking Show
1-week checkout
On Shelf
Westgate Adult A/V
1-week checkout
Adult DVD / Nonfiction / Cooking / Great British Baking Show
1-week checkout
On Shelf
Westgate Adult A/V
1-week checkout
Adult DVD / Nonfiction / Cooking / Great British Baking Show
1-week checkout
On Shelf
Reality television program.
Program content: ©2014.
Wide screen.
disc 1. Cake ; Biscuits ; Bread ; Desserts -- disc 2. Pies and tarts ; Continental cake ; Pastries -- disc 3. Advanced dough ; Pâtisserie ; The final.
Presenters, Mel Giedroyc, Sue Perkins, Mary Berry, Paul Hollywood.
Follow the trials and tribulations of passionate amateur bakers whose goal is to be named the U.K.'s best. Each week, the bakers tackle a different skill, the difficulty of which increases as the competition unfolds, judged by Mary Berry and Paul Hollywood.
DVD; NTSC, Region 1; widescreen presentation; stereo.

REVIEWS & SUMMARIES
Library Journal Review
COMMUNITY REVIEWS
Delightful! submitted by gardenfaerie on August 1, 2017, 7:53pm I can't say enough about this show. I love the hosts (Paul grows on you, Mary is great from the beginning, and Mel and Sue are funny). It is really fun watching people bake, and you learn some things, too. There's nice scenery of England (in the earlier seasons, anyway). But most of all I love how genuinelt humble the bakers are. There's no trash talking and chest pounding... people are genuine and cooperative. Ready, set, watch!!!
love submitted by manz on August 7, 2017, 2:59pm i LOVE this show. I got completely hooked on it. Watching it is mesmerizing!
It's Lovely submitted by Meginator on August 13, 2017, 8:27pm The Great British Bake-Off is delightful all around and this season is no exception. The cast is fantastic and easy to root for, making this perhaps my favorite season. The whole production is lovely and a very pleasant viewing experience
Great submitted by DL on August 24, 2017, 7:29am Love this show and the British houmor of the hosts. Real people Baking on the weekends and not always knowing what they are making is fun to watch.
A Treat! submitted by bookworms on July 19, 2018, 11:24pm First of all, a warning:

CAUTION: MAY CAUSE EXTREME SUGAR CRAVINGS!

The Great British Baking show is my favorite show, and Season 1 is my favorite season! It is so incredibly addictive watching the bakers complete the challenges. I also love how intense the bakes are! Judges Paul and Mary keep things challenging by being very tough on the bakers, and Hosts Mel and Sue lighten the mood. Overall, this is a FAB show! A must watch for all baking fans + those with a sweet tooth.
Just Lovely submitted by majean on August 5, 2018, 2:59pm The contestants are all lovely people with no strong rivalries or drama. They all hug at the end! And the food... I have learned a lot of about types of baking.
One of my favorites submitted by parlettes on July 17, 2020, 11:32pm If you ever want to watch something wholesome, this is the show for you. Not only is it inspiring but the contestants lift each other up instead of bringing each other down.
Inspirational submitted by dntanzer on August 18, 2020, 3:19pm This show is so comforting and enjoyable to watch. And it's awesome to see all of the delicious food - definitely inspires me to bake more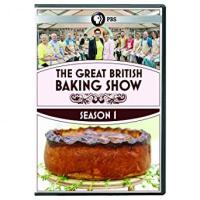 SERIES
Great British baking show (Television program)
Great British Baking Show (Television program)

PUBLISHED
[Arlington, Virginia] : PBS, [2017]
Year Published: 2017
Description: 3 videodiscs (600 min.) : sound, color ; 4 3/4 in.
Language: English
Format: DVD

ISBN/STANDARD NUMBER
9781627899888
162789988X

ADDITIONAL CREDITS
Cawley, Helen (Producer),
Drake, Mark (Producer),
Driver, Anna,
Griffiths, Hannah,
Senior, Jake,
Devonshire, Andy,
Beddoes, Samantha, 1978-
Beattie, Anna, 1968-
McKerrow, Richard, 1964-
Giedroyc, Mel, 1968-
Perkins, Sue, 1969-
Hollywood, Paul,
Berry, Mary, 1935-
Love Productions (London, England),
British Broadcasting Company,
Public Broadcasting Service (U.S.),

SUBJECTS
Baking -- Competitions -- Great Britain.
Baking -- Great Britain.
Baking.
Bakers -- Great Britain.