Press enter after choosing selection
Trading Places
DVD - 2007 DVD Comedy Trading None on shelf 6 requests on 1 copy Community Rating: 4.2 out of 5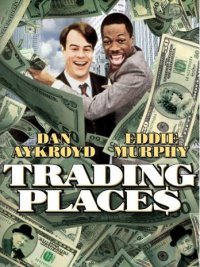 | Location | Call Number | Branch | Item Status |
| --- | --- | --- | --- |
| Malletts Adult A/V | DVD Comedy Trading | Malletts Creek Branch | Due 06-21-2021 |
Originally released as a motion picture in 1983.
Special features: Insider trading: "The making of Trading places;" trading stories; the deleted scene with optional commentary by executive producer George Folsey, Jr.; dressing the part; the trade in Trading places;" trivia pop-ups; industry promotional piece.
Dan Aykroyd, Eddie Murphy, Ralph Bellamy, Don Ameche, Denholm Elliott, Jamie Lee Curtis.
Two old business partners bet that they can turn a street hustler into a successful businessman.
DVD, region 1, widescreen (16:9, enhanced) presentation; Dolby Digital 5.1 surround, Dolby Digital 2.0 surround, Dolby Digital mono., NTSC.

COMMUNITY REVIEWS
Silly submitted by andreahubert on June 29, 2012, 10:43pm This movie is a bet between men essentially destroying one man's life while enriching another's. Kind of cruelly not so funny.
Missing the point submitted by kjmclark on August 7, 2013, 1:33pm The previous review misses the final point of the movie. Yes, the wealthy company head partners do make a bet and destroy one man's life while making the other a partner. However, in the end, the two young people figure out what happened, and work together to get their comeuppance on the two who started the whole thing. So the two who were manipulated turn the tables on the two original schemers.
Dan Ackroyd in blackface submitted by willow on July 31, 2015, 3:33pm Dan Ackroyd's character of Louis Winthorpe III applies dark makeup and dreadlocks to play a Jamaican, complete with cheesy accent.
Trading Places submitted by a2sue on July 31, 2015, 5:20pm I thought "Trading Places" was pretty good. Love Dan and Eddie together!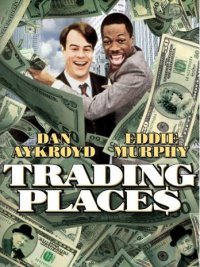 PUBLISHED
Hollywood, Calif. : Paramount Home Entertainment, [2007]
Year Published: 2007
Description: 1 videodisc (116 min.) : sd., col. ; 4 3/4 in.
Language: English
Rated: R
Format: DVD

ISBN/STANDARD NUMBER
1415728909
9781415728901

ADDITIONAL CREDITS
Russo, Aaron.
Harris, Timothy, 1946-
Weingrod, Herschel.
Landis, John, 1950-
Aykroyd, Dan.
Murphy, Eddie, 1961-
Bellamy, Ralph, 1904-1991.
Ameche, Don.
Elliott, Denholm.
Curtis, Jamie Lee, 1958-
Paynter, Robert, 1928-
Campbell, Malcolm.
Bernstein, Elmer.
Paramount Pictures Corporation.
Paramount Home Entertainment (Firm)

SUBJECTS
Stockbrokers -- Social conditions -- Drama.
Swindlers and swindling -- Social conditions -- Drama.
Comedy films.
Feature films.
Video recordings for the hearing impaired.