Press enter after choosing selection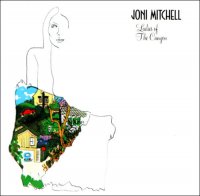 Locations
Call Number: CD Pop Mitchell Ladies
On Shelf At: Downtown Library

| Location | Call Number | Branch | Item Status |
| --- | --- | --- | --- |
| Downtown 2nd Floor, CDs | CD Pop Mitchell Ladies | Downtown Library | On Shelf |
| Downtown 2nd Floor, CDs | CD Pop Mitchell Ladies | Downtown Library | On Shelf |
Compact disc.
Lyrics and discography in booklet.
Morning Morgantown -- For free -- Conversation -- Ladies of the canyon -- Willy -- The arrangement -- Rainy night house -- The priest -- Blue boy -- Big yellow taxi -- Woodstock -- The circle game.
Joni Mitchell, vocals with guitar and piano ; orchestral and vocal accompaniment.

COMMUNITY REVIEWS
A Conversation submitted by Caser on November 4, 2010, 11:40am Joni Mitchell is the queen of presenting contrasting perspectives from a first person point of view, and using this lens to create a scene that feels like a personal experience to the listener. Where many songwriters not named Joni go wrong in the confessional song is when they fail to recognize that their story is intentionally limited in its perspective.

In Conversation, from the 1970 record, Ladies of the Canyon, Mitchell sings of a man she loves who is currently in an unhealthy relationship. She reveals, "He says she keeps him guessing / I know she keeps him down / She speaks in sorry sentences / Miraculous repentances / I don't believe her." First she gives us what the man sees in his girlfriend, and then it's the narrator's perspective on his conclusions. Then the girlfriend's words/actions are described, followed by the narrator's response to that. None of this is objective, and in fact most of it could be completely misguided, but all of it speaks of a human truth. We can only know of one another insofar as we recognize that we are seeing the world (and our own relationships) through a single lens.

"He says she keeps him guessing" places no blame on the man's perspective of his relationship. She thinks he's wrong, that in fact, the other woman is keeping him down, but the line, "I know she keeps him down," is not 'she keeps him down.' It's not presented as an absolute truth; instead, it's a confidential whisper to a friend expressing one's perspective of two other people's lives. It's like starting a sentence with 'in my opinion,' despite the fact that nearly every time we open our mouths, it is, in some part, our opinion. One wouldn't want to do this all the time, for it begins to smack of insincerity -- that you do actually believe this is the undeniable truth -- but it's this economical admission of subjectivity that Joni Mitchell infuses into her songs that gives them such lasting power and openness for the listener.
Ladies of the Canyon submitted by Varshini on July 15, 2019, 7:26pm Great perspective in this album. Good music.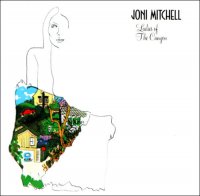 PUBLISHED
New York : Reprise, c1970.
Year Published: 1970
Description: 1 sound disc : digital ; 4 3/4 in.
Language: English
Format: CD

SUBJECTS
Popular music -- 1961-1970.