Press enter after choosing selection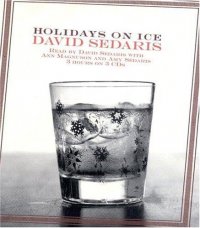 Locations
Call Number: Adult BOCD / Nonfiction / Literary Arts / Sedaris, David, BOCD Fiction
On Shelf At: Pittsfield Branch, Westgate Branch

Location

& Checkout Length

Call Number
Checkout Length
Item Status
Pittsfield Adult A/V
4-week checkout
Adult BOCD / Nonfiction / Literary Arts / Sedaris, David
4-week checkout
On Shelf
Westgate Adult A/V
4-week checkout
Adult BOCD / Nonfiction / Literary Arts / Sedaris, David
4-week checkout
On Shelf
Downtown 2nd Floor
4-week checkout
BOCD Fiction
4-week checkout
Due 01-31-2023
Malletts Adult A/V
4-week checkout
Adult BOCD / Nonfiction / Literary Arts / Sedaris, David
4-week checkout
Due 02-15-2023
CD 1. Tracks 1-14: Intro & SantaLand diaries -- CD 2. Tracks 1-6: Based upon a true story ; Tracks 7-14: Season's greetings to our friends and family!! -- CD 3. Tracks 1-2: Front row center with Thaddeus Bristol ; Tracks 3-8: Dinah, the Christmas whore ; Tracks 9-12: Christmas means giving ; Track 13: End credits.
Read by the author, Amy Sedaris, and Ann Magnuson.
Compact disc.

REVIEWS & SUMMARIES
Library Journal Review
Publishers Weekly Review
Summary / Annotation
Fiction Profile
Author Notes
COMMUNITY REVIEWS
David Sedaris is very funny. submitted by Jen Chapin-Smith on August 28, 2012, 11:24am Like everything by David Sedaris, "Holidays on Ice" is absolutely hilarious. I particularly liked his story about sending people to the Santa not of their choosing.
My one criticism is the author's use of the word "retarded" and his negative portrayal of people with cognitive disabilities.
David's sister Amy Sedaris has starred in numerous funny movies and shows including "Strangers with Candy," which is also available at the Ann Arbor District Library.
Pretty funny submitted by kelleyc on June 22, 2016, 12:30pm I particularly enjoyed the first two stories - Amy Sedaris is a real laugh. She reads with so much character. And of course, David Sedaris is as funny as ever.
They make a great team! submitted by mickplu on July 21, 2016, 9:25pm David Sedaris and Amy Sedaris narrate this series of hilarious holiday stories.
so funny! submitted by KOH on August 30, 2017, 9:22pm The santaland diaries are hilarious.
A holiday must read submitted by wysea on June 28, 2019, 9:13am I have a yearly tradition in December to reread this book. David Sedaris has a magical eye for finding the absurd in everyday life and describing it in a magical way. Pure genius.
funny submitted by rincess on August 9, 2022, 11:50am A pick me up for the holidays or if you need something to make you laugh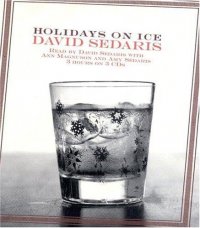 PUBLISHED
Prince Frederick, MD : Distributed by Recorded Books, p2001.
Year Published: 2001
Description: 3 sound discs (3 hrs.) : digital ; 4 3/4 in.
Language: English
Format: Book on CD

ISBN/STANDARD NUMBER
1586212222 :

ADDITIONAL CREDITS
Sedaris, Amy.
Magnuson, Ann.

SUBJECTS
Sedaris, David.
Americans -- Paris -- Humor.
Christmas stories, American.