Press enter after choosing selection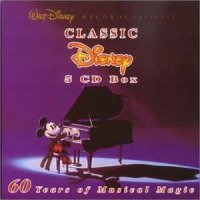 | Location | Call Number | Branch | Item Status |
| --- | --- | --- | --- |
| Downtown Youth | Youth-CD Disney Classic 1995B | Downtown Library | On Hold Shelf |
Compact disc.
Complete credits on container inserts.
Beauty and the Beast: Be our guest -- The Lion king: Can you feel the love tonight -- The little mermaid: Part of your world -- Aladdin: One jump ahead -- Beauty and the beast: Gaston -- Beauty and the beast: Something there -- Mary Poppins: Supercalifragilisticexpialidocious --Pete's dragon: Candle on the water -- Disneyland: Main street Electrical Parade (Fanfare of lights; Baroque hoedown; All in the golden afternoon; The unbirthday song; Alice in Wonderland; Cinderella; Entry of the gladiators; A bit bubbly; Brazzle dazzle day; It's not easy) -- Bedknobs and broomsticks: The age of not believing -- The jungle book: The bare necessities -- Mary Poppins: Feed the birds (Tuppence a bag) -- The fox and the hound: Best of friends -- Mary Poppins: Let's go fly a kite --
(cont.) New York World's Fair: It's a small world (After all) -- Disneyland: The Tiki, Tiki, tiki room -- The Mickey Mouse Club: Mickey Mouse Club march -- Summer magic: On the front porch -- Peter Pan: The second star to the right -- Song of the South: Ev'rybody has a laughing place -- Cinderella: Bibbidi-Bobbidi-Boo -- Cinderellla: So this is love -- Pinocchio: When you wish upon a star -- Snow White and the Seven Dwarfs: Heigh-Ho-- Three little pigs: Who's afraid of the big bad wolf.
Various performers.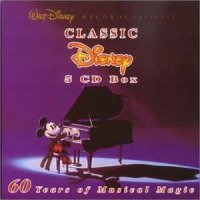 PUBLISHED
Burbank, CA : Walt Disney Records, p1995.
Year Published: 1995
Description: 1 sound disc : digital ; 4 3/4 in.
Language: English
Format: CD

ISBN/STANDARD NUMBER
1557236496 :

SUBJECTS
Motion picture music -- Excerpts.
Television music -- Excerpts.
Children's songs.
Popular music.