Press enter after choosing selection
The League of Gentlemen
DVD - 2010 DVD Drama League 2 On Shelf No requests on this item Community Rating: 4.5 out of 5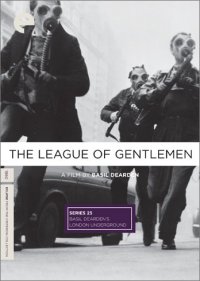 Locations
Call Number: DVD Drama League
On Shelf At: Downtown Library

| Location | Call Number | Branch | Item Status |
| --- | --- | --- | --- |
| Downtown 1st Floor | DVD Drama League | Downtown Library | On Shelf |
| Downtown 1st Floor | DVD Drama League | Downtown Library | On Shelf |
From the novel by John Boland.
Originally released as a motion picture in 1960.
Jack Hawkins, Nigel Patrick, Roger Livesey, Richard Attenborough, Bryan Forbes, Kieron Moore, Terence Alexander, Robert Coote.
Bitter about being forced into retirement, a colonel (wittily embodied by Jack Hawkins) ropes a cadre of former British army men into aiding him in a one-million-pound bank robbery, a risky, multitiered plan that involves infiltrating a military compound.
DVD, NSTC, region 1, widescreen; Dolby Digital mono.
Contents: League of gentlemen.

COMMUNITY REVIEWS
No community reviews. Write one below!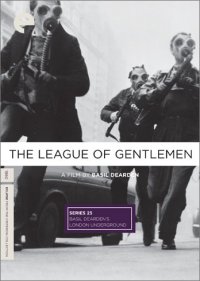 SERIES
Basil Dearden's London underground
series 25.

PUBLISHED
[Irvington, NY] : The Criterion Collection, c2010.
Year Published: 2010
Description: 1 videodisc (116 min.) : sd., b&w ; 4 3/4 in.
Language: English
Format: DVD

ISBN/STANDARD NUMBER
9781604653786
1604653787

ADDITIONAL CREDITS
Relph, Michael, 1915-2004.
Dearden, Basil, 1911-1971.
Forbes, Bryan, 1926-2013.
Hawkins, Jack, 1910-1973.
Patrick, Nigel.
Livesey, Roger, 1906-1976.
Attenborough, Richard.
Moore, Kieron, 1924-2007.
Alexander, Terence, 1923-2009.
Green, Philip, 1911-1983.
Boland, John, 1913-
Allied Film Makers (Firm)
Criterion Collection (Firm)

SUBJECTS
Retired military personnel -- England -- Drama.
Bank robberies -- England -- Drama.
Caper films.
Comedy films.
Fiction films.
Video recordings for the hearing impaired.
Feature films.
Feature films -- Great Britain.