Press enter after choosing selection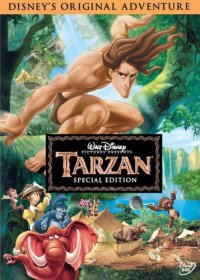 Locations
Call Number: Youth-DVD Disney Tarzan
On Shelf At: Downtown Library, Malletts Creek Branch, Pittsfield Branch, Traverwood Branch, Westgate Branch

Location

& Checkout Length

Call Number
Checkout Length
Item Status
Downtown Kids
1-week checkout
Youth-DVD Disney Tarzan
1-week checkout
On Shelf
Downtown Kids
1-week checkout
Youth-DVD Disney Tarzan
1-week checkout
On Shelf
Downtown Kids
1-week checkout
Youth-DVD Disney Tarzan
1-week checkout
Due 07-05-2022
Downtown Kids
1-week checkout
Youth-DVD Disney Tarzan
1-week checkout
Due 07-05-2022
Malletts Kids A/V
1-week checkout
Youth-DVD Disney Tarzan
1-week checkout
On Shelf
Pittsfield Kids A/V
1-week checkout
Youth-DVD Disney Tarzan
1-week checkout
On Shelf
Traverwood Kids A/V
1-week checkout
Youth-DVD Disney Tarzan
1-week checkout
On Shelf
Westgate Kids A/V
1-week checkout
Youth-DVD Disney Tarzan
1-week checkout
On Shelf
Westgate Kids A/V
1-week checkout
Youth-DVD Disney Tarzan
1-week checkout
On Shelf
Westgate Kids A/V
1-week checkout
Youth-DVD Disney Tarzan
1-week checkout
Reshelving
Based on the story "Tarzan of the Apes" by Edgar Rice Burroughs.
Originally produced as a motion picture in 1999.
Special features: all-new game-Terk's tree surfing challenge; all-new DisneyPedia; all-new music video-"Strangers like me" performed by Everlife.
Voices, Tony Goldwyn, Minnie Driver, Brian Blessed, Glenn Close, Nigel Hawthorne.
A human baby is abandoned in the African jungle and is adopted by a clan of apes. Packed with new, fun-filled bonus features, games, and award-winning songs.
DVD, region 1, widescreen (1.66:1) presentation; Dolby Digital 5.1 surround sound.

COMMUNITY REVIEWS
great submitted by nfrassrand on June 23, 2011, 4:12pm I like this movie
iffy submitted by steelersfan1 on June 24, 2011, 4:35pm ok movie
ok submitted by harajuku528 on June 24, 2011, 4:59pm ok
Tarzan submitted by honordenver on July 14, 2011, 9:43pm This movie was good i like it.
Good submitted by cinderellariley on July 19, 2011, 12:44pm I liked it.
Awesome submitted by Bigal2212 on July 23, 2011, 3:51pm Awesome
Great submitted by Smurf05 on August 13, 2012, 7:18pm Great movie for every family
This movie made me cry! submitted by ehm on June 28, 2014, 12:30pm This movie is amazing, but I cried when Tarzan's human parents died! I love that he grew up with the monkeys and it was really funny when he had to learn to be a human again.
Great submitted by steveiew on August 19, 2015, 2:50pm Great interpretation of this classic tale.
Jungle Book submitted by KSB2013 on July 3, 2016, 10:35am Not a classic but still a decent Disney movie.
Good submitted by leenajong on July 4, 2016, 1:02am We loved it.
Disney's Tarzan submitted by Fevvers - STAR473 on July 6, 2016, 5:06pm The animation is up to the Disney standards of the time, and has some beautiful sequences. The cast is also pretty great. The story is rather thin, and could've done with a little more nuance to flesh out the characters and feel more engaging. I enjoyed the animals and Jane, but the other characters, including Tarzan himself, just weren't distinctive for me.
Tarzan submitted by tshish on July 7, 2016, 10:04pm Excellent Disney movie for whole family.
Great music! submitted by Xris on June 26, 2018, 12:30am Phil Collins did a great soundtrack with awesome songs to sing to! They also put an interesting twist on Tarzan! Loved the comedy from Rosie O'Donnell, too!!
Fun submitted by anacoluthon on July 27, 2018, 4:25pm A great movie with an iconic soundtrack. Gotta love Phil Collins!
An Adventure submitted by majean on August 17, 2018, 11:52am Great soundtrack, and I love this story.
Not the best submitted by pepemama on June 23, 2019, 8:59am Not the best Disney movie but good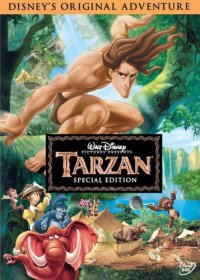 PUBLISHED
[United States] : Walt Disney Home Video, [2005]
Year Published: 2005
Description: 1 videodisc (ca. 88 min.) : sd., col. ; 4 3/4 in.
Language: English
Format: DVD

ISBN/STANDARD NUMBER
0788857509 :

ADDITIONAL CREDITS
Lima, Kevin.
Buck, Chris.
Goldwyn, Tony.
Driver, Minnie.
Blessed, Brian.
Walt Disney Home Video (Firm)

SUBJECTS
Tarzan (Fictitious character).
Gorilla -- Drama.
Feature films.
Children's films.
Video recordings for the hearing impaired.