Press enter after choosing selection
Thor : : Bringers of the Storm
Bedard, Tony. Graphic Novel - 2011 None on shelf No requests on this item Community Rating: 3.5 out of 5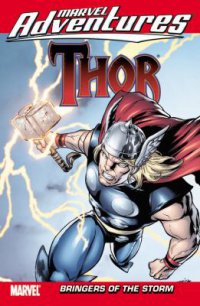 AADL has no copies of this item

Contains material originally published in single magazine form in 2006-2007 as Marvel Adventures: Avengers #5, 15 and in 2009 as Marvel Adventures: Super Heroes #7, 11.
The Trickster and the Wrecker -- Bringers of the storm -- Lip service -- Fire and ice.
Four action-packed stories starring Thor, God of Thunder. First with great power comes...a whole lotta trouble? That's what the Wrecker finds out when he's zapped by a jolt of magical muscle meant for Loki, the god of mischief. Next, villains march across Bifrost Bridge, to challenge the forces of Odin! But wait...these are the Avengers?! Third, see how the God of Thunder came to our world, and what awesome adversities shaped him into a champion of man. And finally, Loki unleashes the forces of fire and ice against the world, but they have to get by his brother Thor first.

REVIEWS & SUMMARIES
Summary / Annotation
COMMUNITY REVIEWS
thor is awesome! submitted by nasuaada on July 28, 2011, 6:58pm thor is awesome!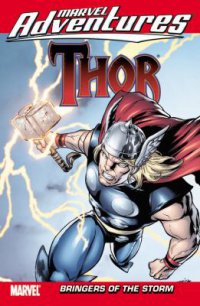 SERIES
Marvel adventures. Thor.
Marvel digests.


PUBLISHED
New York : Marvel, 2011.
Year Published: 2011
Description: 1 v. (unpaged) : col. ill. ; 20 cm.
Language: English
Format: Graphic Novel

ISBN/STANDARD NUMBER
9780785151975
0785151974

ADDITIONAL CREDITS
Bedard, Tony.
Parker, Jeff, 1966-
Simonson, Louise.
Gallant, S. L.
Stanisci, John.

SUBJECTS
Thor (Norse deity)
Avengers (Fictitious characters)
Superhero comic books, strips, etc.
Science fiction comic books, strips, etc.
Graphic novels.