Press enter after choosing selection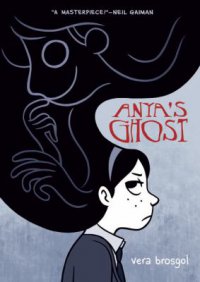 | Location | Call Number | Branch | Item Status |
| --- | --- | --- | --- |
| Traverwood Teen Books | Teen Book / Comics & Graphic Novels / General / Brosgol, Vera | Traverwood Branch | Due 06-02-2021 |
Anya, embarrassed by her Russian immigrant family and self-conscious about her body, has given up on fitting in at school but falling down a well and making friends with the ghost there just may be worse.

REVIEWS & SUMMARIES
Library Journal Review
School Library Journal Review
Booklist Review
Publishers Weekly Review
Summary / Annotation
Fiction Profile
Author Notes
COMMUNITY REVIEWS
Ghosts and Bones submitted by jaegerla on June 16, 2011, 1:57pm Good to recommend to teens that enjoy ghost stories but don't like to be scared from said ghosts.
Fantastic and surprising submitted by deets on July 17, 2011, 2:23pm This is a fantastic tale of a young Russian girl who is still struggling to feel like she fits in anywhere. A twist in the tale leads her to discover a long hidden ghost, who turns out to not be quite who she says she is. The simple style of the illustrations fits perfectly with the story, and the main character is someone who nearly everyone can relate to. No glorified princess stories for this strong female lead.
Great debut comic from Vera Broscol submitted by wampishing on June 24, 2013, 2:55pm Taking an accidental tumble down a well one afternoon, weight-conscious, Russian-born high schooler Anya finds someone even more out of place than herself: Emily, the ghost of a girl who died in the well 90 years before. Anya finds having a ghost for a friend awfully helpful. Emily can help her cheat on tests, scope out her crush's class schedule, and act as a lookout when Anya skips class. But Emily is not what she seems. Faced with Emily increasingly obsessive behavior Anya must solve the mystery of Emily's death in order to be free of her ghost's deadly dedication.

The lesson Anya learns - that insular as human hearts are, we can't know everything a person faces and should withhold our judgement accordingly - plays out in a well paced narrative of high school and supernatural drama. The desaturated purple, black and white palette lends the graphic novel a certain amount of sobriety befitting a ghost story without giving it too depressive and dark an air. The art's simple, expressive faces with thick, smooth lines make even standard "talking head" panels engrossing. Building to an emotional, intelligent climax, "Anya's Ghost" is a highly praiseworthy first foray into the world of graphic novels by Vera Broscol.
Ghostly good read submitted by LibraryMaven on June 15, 2014, 3:29pm In this young adult graphic novel, Anya, a disaffected immigrant teen, accidentally brings a ghost home with her after a fall down an old well. At first, the ghost seems to solve a lot of her life's problems, but suddenly the truth becomes darker, and Anya must fix her own mistakes and decide what kind of person she wants to become. Black and white illustrations merge seamlessly with the text to show the trials and tribulations of teenagehood without trivializing them. Despite the supernatural element, Anya's Ghost does not have a fantasy feel and the title character reacts to a sudden ghost in her life in a surprisingly realistic, and sarcastic, way. Anya's status as a Russian immigrant is an issue in the book, but not the issue, which I appreciated while reading- there are so few books where the immigrant experience is present but not the sole focus. In doing so, Brosgol who herself immigrated to the US, did not constrain the book to one set of readers, but did work to make readers aware of the real issues faced by teen immigrants. Likewise, Anya's struggle with body image is both realistic and non-preachy, as is her reaction to the high school social scene.
Ghosts Graphic Novel submitted by thegretch on July 18, 2018, 10:45pm This young adult graphic novel is a must read.
Great submitted by c_zhang on June 28, 2019, 2:53pm I love the art style, and how genuine and honest this story is. A relatable main character who is complex and flawed.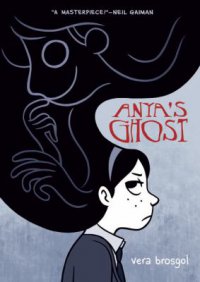 PUBLISHED
New York : First Second, 2011.
Year Published: 2011
Description: 221 p. : ill. ; 23 cm.
Language: English
Format: Graphic Novel

READING LEVEL
Lexile: 300

ISBN/STANDARD NUMBER
1596437138
1596435526

SUBJECTS
Interpersonal relations -- Fiction.
Self-esteem -- Fiction.
Ghosts -- Fiction.
Russian Americans -- Fiction.
Graphic novels.