Press enter after choosing selection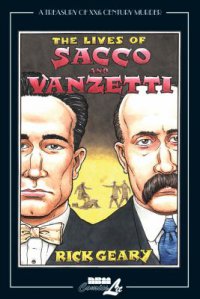 | Location | Call Number | Branch | Item Status |
| --- | --- | --- | --- |
| Downtown 1st Floor | Adult Graphic Novel / Geary, Rick | Downtown Library | Due 04-15-2021 |
| Pittsfield Adult Books | Adult Book / Comics & Graphic Novels / Nonfiction / General / Geary, Rick | Pittsfield Branch | Due 05-03-2021 |
"The fourth entry in Geary's chronicling of famous XXth century murders tackles the extremely controversial case of Italian immigrants Nicola Sacco and Bartolomeo Vanzetti. Geary delves into his most political case yet in this series, however, all his favorite elements are there: the murders are unsolved, the attention of the media is tremendous, there are multiple theories as to what really happened. What's unusual about this particular event is how this polarized and galvanized the world. A possibly biased judge they could never get rid of no matter how many appeals, thanks to Massachusetts law, and a prevailing attitude, especially among the ruling elite, about eradicating anarchists and communists, may have contributed to what many decried as a monkey court trial. Many pieces of evidence were inconclusive, much testimony questionable. Riots erupted all over the world. They lived in a time when class differences were at a raw edge worldwide, the US included, and this struck far too many as more evidence of repression by the ruling elite. In this volume, we are not dealing with some outlandish fait divers but a clash of classes and a justice system that may have failed to treat these men with any equanimity. The tension throughout the book is palpable as a result"--Publisher's wbe site.

REVIEWS & SUMMARIES
School Library Journal Review
Booklist Review
Publishers Weekly Review
Summary / Annotation
Author Notes
COMMUNITY REVIEWS
Great Retelling of a Famous Story submitted by Sara W on August 27, 2015, 1:07pm I know the trial of Sacco and Vanzetti best from a barely-remembered paragraph in a high school history book. But their story is fascinating, so Geary's graphic novel is a welcome retelling, with far more detail than my generic American Studies book was going to provide. The scant evidence that accompanied their trial, the media frenzy, and the obvious prejudice surrounding the defendant's heritage and politics are astounding. This is another true story that defies belief - Geary is a master of finding stories that are as engaging as his illustrations, and the combination of the two is irresistible.

Fans of the Serial podcast might find interest here as well, as this is a story where bias and failings of the legal system play a huge role.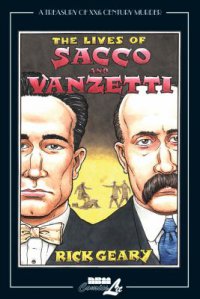 SERIES
A treasury of XXth century murder.

PUBLISHED
New York : NBM/ComicsLit, 2011.
Year Published: 2011
Description: 1 v. (unpaged) : chiefly ill. ; 24 cm.
Language: English
Format: Graphic Novel

ISBN/STANDARD NUMBER
9781561636051
1561636053

SUBJECTS
Sacco, Nicola, -- 1891-1927 -- Trials, litigation, etc.
Vanzetti, Bartolomeo, -- 1888-1927 -- Trials, litigation, etc.
Sacco-Vanzetti Trial, Dedham, Mass., 1921.
Trials (Murder) -- Dedham.
Graphic novels.