Press enter after choosing selection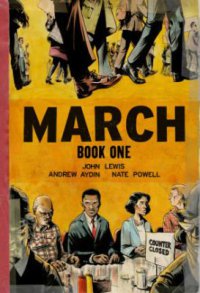 Locations
Call Number: Adult Graphic Novel / March, Adult Book / Comics & Graphic Novels / Nonfiction / Biography / March 1
On Shelf At: Downtown Library, Malletts Creek Branch, Pittsfield Branch, Traverwood Branch

| Location | Call Number | Branch | Item Status |
| --- | --- | --- | --- |
| Downtown 1st Floor | Adult Graphic Novel / March | Downtown Library | On Shelf |
| Downtown 1st Floor | Adult Graphic Novel / March | Downtown Library | On Shelf |
| Downtown 1st Floor | Adult Graphic Novel / March | Downtown Library | On Shelf |
| Downtown 1st Floor | Adult Graphic Novel / March | Downtown Library | Due 12-17-2021 |
| Malletts Adult Books | Adult Book / Comics & Graphic Novels / Nonfiction / Biography / March 1 | Malletts Creek Branch | On Shelf |
| Malletts Adult Books | Adult Book / Comics & Graphic Novels / Nonfiction / Biography / March 1 | Malletts Creek Branch | On Shelf |
| Malletts Adult Books | Adult Book / Comics & Graphic Novels / Nonfiction / Biography / March 1 | Malletts Creek Branch | Due 12-08-2021 |
| Pittsfield Adult Books | Adult Book / Comics & Graphic Novels / Nonfiction / Biography / March 1 | Pittsfield Branch | On Shelf |
| Pittsfield Adult Books | Adult Book / Comics & Graphic Novels / Nonfiction / Biography / March 1 | Pittsfield Branch | On Shelf |
| Pittsfield Adult Books | Adult Book / Comics & Graphic Novels / Nonfiction / Biography / March 1 | Pittsfield Branch | Due 01-02-2022 |
| Traverwood Adult Books | Adult Book / Comics & Graphic Novels / Nonfiction / Biography / March 1 | Traverwood Branch | On Shelf |
| Traverwood Adult Books | Adult Book / Comics & Graphic Novels / Nonfiction / Biography / March 1 | Traverwood Branch | Reshelving |
| Westgate Adult Books | Adult Book / Comics & Graphic Novels / Nonfiction / Biography / March 1 | Westgate Branch | Due 12-09-2021 |
| Westgate Adult Books | Adult Book / Comics & Graphic Novels / Nonfiction / Biography / March 1 | Westgate Branch | Due 01-02-2022 |
"March is a vivid first-hand account of John Lewis' lifelong struggle for civil and human rights, meditating in the modern age on the distance traveled since the days of Jim Crow and segregation. Rooted in Lewis' personal story, it also reflects on the highs and lows of the broader civil rights movement."--Back cover flap.

REVIEWS & SUMMARIES
Library Journal Review
School Library Journal Review
Booklist Review
Publishers Weekly Review
Summary / Annotation
Fiction Profile
Author Notes
COMMUNITY REVIEWS
Fantastic submitted by evelyn on July 8, 2014, 8:54pm I was lucky enough to see the Congressman and the other authors speak live, and this book is just as fantastic as I hoped for.
True superhero submitted by sueij on August 9, 2016, 10:28pm Graphic novels can be a fantastic tool to tell a story. When done well, the author and illustrator working together can convey story, drama, tension, character, and a genuine sense of presence to the world being conveyed. What is most awesome (and I don't use that word lightly) about _March_ is that it is the true recounting of John Lewis's journey from childhood to Civil Rights leader to member of the US House of Representatives present at the inauguration of our first Black president. The team that brings us this book capture all those elements.

Graphic novels are often about superheroes. This story is about a real one.
One of the best books Ive ever read submitted by caherne on August 5, 2018, 10:45am The authors are so talented in that they wrote the book with so much feeling and detail it made me feel like I was actually there. I love how it goes from the now President Barack Obama´s inauguration then to the past. Life-changing
Should be required reading submitted by A2AE on July 2, 2019, 3:18pm An outstanding account of an incredibly dynamic man. This is a series that everyone should read. You will gasp as the heroic actions of Lewis and the shocking encounters he had leading up to the march in Selma.
Very Powerful submitted by brszym on August 11, 2020, 8:58pm This book covers the stories I thought I knew (sit-ins, freedom riders) and ones I didn't know at all (John Lewis' love of chickens) in such vivid detail. It's a real page turner!
Gripping submitted by PharmRach on August 12, 2020, 8:57pm Very well written and illustrated, and includes a lot of historical details. The format reminds you that you are reading about a real life super hero!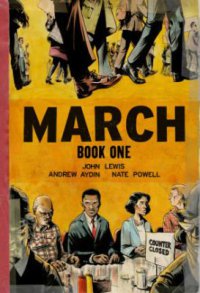 PUBLISHED
Marietta, GA : Top Shelf Productions, 2013.
Year Published: 2013
Description: 1 volume, 121 pages : black-and-white illustrations ; 25 cm.
Language: English
Format: Graphic Novel

ISBN/STANDARD NUMBER
9781603093002
1603093001

ADDITIONAL CREDITS
Lewis, John, 1940 February 21-
Aydin, Andrew.
Powell, Nate.

SUBJECTS
Civil rights movements -- United States -- Graphic novels.
Graphic novels.