Press enter after choosing selection
Lego Batman, the Movie : DC Superheroes Unite
DVD - 2013 None on shelf No requests on this item Community Rating: 3.9 out of 5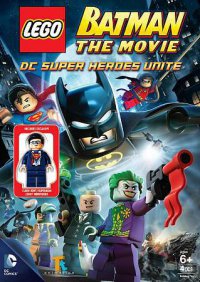 AADL has no copies of this item

Title from web page.
Special features: All-new featurette "Building Batman"; from the DC Comics vault: 3 bonus cartoons; a Lego Batman stop-motion short; Winning shorts from the LEGO DC Universe Super Heroes video contest.
Brian Bloom, Rob Paulsen, Laura Bailey, Travis Willingham, Charlie Schlatter, Kari Wahlgren, Troy Baker.
When Bruce Wayne receives the man of the year award, fellow billionaire Lex Luthor becomes jealous and decides to run for President. To create the atmosphere for his type of fear-based politics Lex recruits the Joker to perfect a Black LEGO Destructor Ray which wreaks havoc on Gotham. As Lex destroys Batman's tech, Batman reluctantly turns to Superman for help.
DVD, widescreen presentation.

COMMUNITY REVIEWS
Cute movie submitted by Cory Michael on August 10, 2014, 3:18pm This movie was pretty entertaining
fun movie submitted by j mckinley on August 9, 2015, 9:42pm This movie was pretty darn cute!!
nice movie submitted by Kaebib on June 24, 2016, 12:40pm mostly cut scenes from the lego batman 2
Fun submitted by ashflowtuff on July 3, 2017, 7:34am My son really enjoyed this movie.
It's fun submitted by majean on August 9, 2018, 5:33pm I enjoy the Lego movies.
awesome submitted by gogo on June 17, 2019, 7:41pm couldn't be better
Cool submitted by kphibbs on July 1, 2019, 12:25pm Cool movie
super submitted by kevinhe on July 24, 2019, 4:33pm the combination of LEGO and Batman, so cool!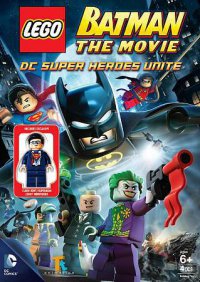 PUBLISHED
[United States] : Warner Home Video, [2013]
Year Published: 2013
Description: 1 videodisc (71 min.) : sd., col. ; 4 3/4 in.
Language: English
Format: DVD

ISBN/STANDARD NUMBER
0780697537
9780780697539

ADDITIONAL CREDITS
Burton, Jon.
Bloom, Brian, 1970-
Paulsen, Rob, 1956-
Bailey, Laura, 1981-
Warner Home Video (Firm)

SUBJECTS
Batman (Fictitious character)
Joker (Fictitious character)
Superheroes -- Drama.
LEGO toys -- Drama.
Crime -- Drama.
Feature films.
Children's films.
Superhero films.
Animated films.