Press enter after choosing selection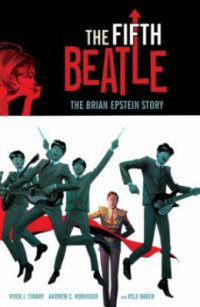 Locations
Call Number: Adult Graphic Novel / Tiwary, Vivek J., Adult Book / Comics & Graphic Novels / Nonfiction / Biography / Epstein, Brian
On Shelf At: Downtown Library, Traverwood Branch

Location

& Checkout Length

Call Number
Checkout Length
Item Status
Downtown 1st Floor
4-week checkout
Adult Graphic Novel / Tiwary, Vivek J.
4-week checkout
On Shelf
Traverwood Adult Books
4-week checkout
Adult Book / Comics & Graphic Novels / Nonfiction / Biography / Epstein, Brian
4-week checkout
On Shelf
"In 1961, twenty-seven-year-old Brian Epstein walked into a dank Liverpool basement to see an unknown rock band perform--and our world was forever changed. The fifth Beatle is Epstein's untold true story: the tale of a genuine visionary who discovered, managed, and guided the Beatles to unprecedented international stardom, rewriting the rule of the pop music business in the process. But Brian Epstein was also the ultimate outsider, constantly searching for a place where he might belong. He helped spread the Beatles' message of love to the entire world, yet died painfully lonely at the young age of thirty-two, consumed by staggering ambition and the endless, seemingly insurmountable struggles that came with it."--P. [4] of cover.

REVIEWS & SUMMARIES
Library Journal Review
School Library Journal Review
Publishers Weekly Review
Summary / Annotation
Author Notes
COMMUNITY REVIEWS
Beautiful artwork submitted by samanthar on July 1, 2015, 8:58pm This graphic novel is not a biography of Brian Epstein's entire life per se, but a look at his time spent managing the Beatles. He is largely credited with making the band an international sensation, and the graphic novel shows that the success achieved did not mean Brian led a satisfied life.

Admittedly, this is the first graphic novel I have ever read. I found it very enjoyable. The artwork is gorgeous, and the story compelling. I'm a huge fan of the Beatles, and recommend this graphic novel for any and all Beatles fans.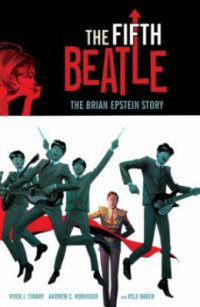 PUBLISHED
Milwaukie, OR : Published by M Press, a division of Dark Horse Comics, Inc., 2013.
Year Published: 2013
Description: 135 p. : chiefly color illustrations ; 32 cm.
Language: English
Format: Graphic Novel

ISBN/STANDARD NUMBER
9781616552565
1616552565

ADDITIONAL CREDITS
Robinson, Andrew
Baker, Kyle,
Dutro, Steve,

SUBJECTS
Epstein, Brian, -- 1934-1967.
Beatles.
Impresarios -- England -- Biography.
Graphic novels.