Press enter after choosing selection
Pretty Deadly. Volume 1, The Shrike
DeConnick, Kelly Sue. Graphic Novel - 2014 None on shelf 2 requests on 0 copies Community Rating: 4.8 out of 5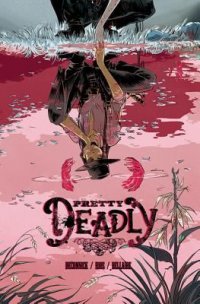 AADL has no copies of this item

Presents the collecting opening arc of author's series that marries the magical realism of Sandman with the western brutality of Preacher. This book tells a tale of retribution as beautifully lush as it is unflinchingly savage.

REVIEWS & SUMMARIES
Booklist Review
Publishers Weekly Review
Summary / Annotation
COMMUNITY REVIEWS
pretty amazing submitted by allison on June 13, 2014, 10:53am First up: never fear, this collection is a complete story arc, so if you hate cliffhangers and unresolved storylines, you're safe. Next: I am not even sure how to describe this. The storytelling is lush, complex, and simultaneously works on very human and vastly epic scales. It's the story of Deathface Ginny, Death's daughter - but it's far more than that. It's about her mother redressing the ongoing injustices committed against her; it's about Death himself, corrupted by power & privilege, unable to see how he's gone wrong; it's about bunny and butterfly; it's about redemption and cold, careful anger. It's about how stories shape us, and how we shape stories. DeConnick's writing is amazing, of course - but Rios' art is so perfectly suited to the story that I have a hard time imagining it drawn by anyone else. This is dark and hopeful and sweet and despairing. Also, the combination of framing story, narration, a relatively large cast of main characters, and worldbuilding means the story isn't immediately transparent - hold on and keep reading. Immensely satisfying, and I can't wait for what DeConnick & Rios come up with next.
Great volume submitted by asopijw65 on August 16, 2016, 2:15am Great volume! Beautiful art. Really hope the library gets Vol 2 soon!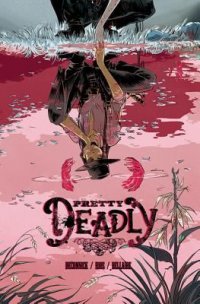 PUBLISHED
Berkeley, CA: Image Comics, 2014.
Year Published: 2014
Description: 1 volume (unpaged) : color illustrations; 26 cm.
Language: English
Format: Graphic Novel

ISBN/STANDARD NUMBER
9781607069621
1607069628

ADDITIONAL CREDITS
DeConnick, Kelly Sue.
Rios, Emma.
Bellaire, Jordie.

SUBJECTS
Revenge -- Fiction.
Graphic novels.